Bruce Arians explains why leaping field goal blocks are 'bad for football'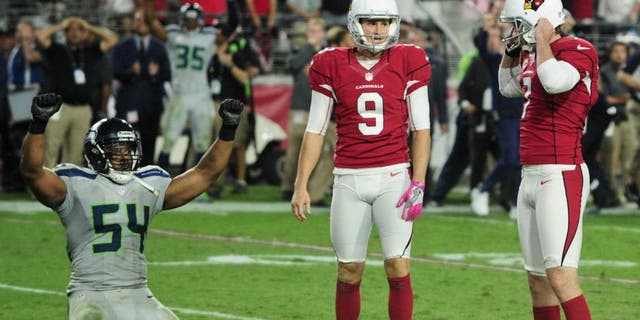 The biggest story line to come out of NFL Week 7 was the ending of Arizona's tie with the Seahawks. Much has been made about the fact that ties should never happen in the NFL, leading Russell Wilson to suggest a new idea to avoid them. However, Bruce Arians has been harping on another topic of conversation this week: leaping field goal blocks.
Bobby Wagner jumped over the line twice on Sunday night, successfully blocking one of Arizona's field goal attempts. On that block, Wagner appeared to make contact with one of Arizona's linemen, though he didn't land on him -- which is what the rule stipulates cannot happen.
Arians was not happy and awaited a response from the NFL that would be "all [expletive]," but he hasn't given up on the situation.
"The Competition Committee went through that play and officials wanted it taken out," Arians said on SiriusXM NFL Radio. "The committee left it in, but it cannot be officiated. Whether he touches, whether it was leverage, was his foot within the framework of the defensive lineman's feet before he jumped, all those things that go into that call, I think it's bad for football."
He explains why it should be outlawed, and not just because it cost his team a win.
"Because what you're going to have to do now is start having centers raise their face up and get kicked in the face and things that are just dangerous to the players," he added. "I think it's a dangerous play as it is and should be taken out of the game."
Leaping field goal blocks don't happen often, but the Seahawks have mastered the play. Kam Chancellor tried it often in years past, and now Wagner is doing it himself. Had he not pulled it off successfully -- or if he was flagged for grazing the center's back as Arians would have liked -- the game would have shifted dramatically.
It's not a seriously dangerous play the way that kickoffs or diving over the line into the end zone are, but Arians does have a point. Teams will have to stop the play if Seattle continues doing it, and it will likely happen by centers popping up and taking out the leaper.