Broxton, Brewers outslug Red Sox in an 11-7 win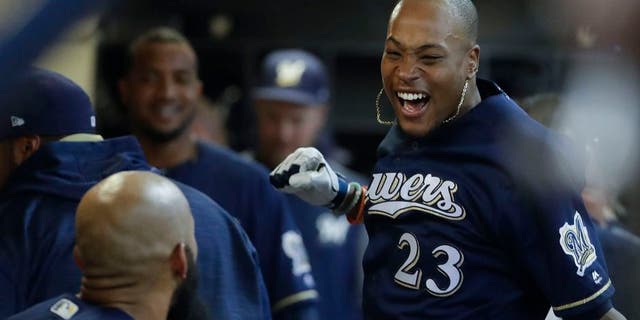 MILWAUKEE -- Eric Thames hit his 13th homer of the year in a five-run first inning, Keon Broxton drove in four runs and finished a double short of the cycle, and the Milwaukee Brewers outslugged the Boston Red Sox 11-7 on Tuesday night.
The Brewers overcame a big night by Boston's Mookie Betts, who went 4 for 4, drove in four runs and finished a triple short of the cycle.
But the Red Sox had to play catch-up after the Brewers' first inning highlighted by two-run shots from Thames and Broxton off Drew Pomeranz (3-2).
Thames, the bearded slugger, has gone deep in two straight games after nine in a row without a homer. He had two of Milwaukee's 13 hits.
Betts led Boston's 12-hit attack with a leadoff homer in the first and a two-run double in the eighth that cut the deficit to four.
Corey Knebel ended that threat by striking out .333 hitter Xander Bogaerts with two outs and runners on first and second. Carlos Torres (2-3) pitched 1 1/3 scoreless innings out of the bullpen.
Otherwise, neither team had a good night on the mound at hitter-friendly Miller Park.
Betts and Dustin Pedroia hit back-to-back RBI doubles to chase Wily Peralta with one out in a three-run fifth to help the Red Sox close a five-run deficit.
But the Brewers kept tacking on runs to build on their early cushion.
Broxton added a two-run triple in the seventh. He went 3 for 3 and raised his average to .258 after hitting .191 to start May.
TRAINER'S ROOM
Red Sox: Injured LHP David Price threw about 60-plus pitches in a simulated session. The 2012 AL Cy Young Award winner is recovering from a strained left elbow. Price is scheduled to throw a light bullpen session on Thursday, and manager John Farrell said Price's next full work session could be a minor league rehab start.
Brewers: RHP Junior Guerra (right calf) could start a rehab stint if he fares well following what manager Craig Counsell said would be a "pretty extensive session" throwing batting practice on Wednesday. Guerra has been sideline since getting hurt on opening day.
STREAKS
Bogaerts extended his hitting streak to 12 games after doubling to the wall in left-center with two outs in the seventh off reliever Jacob Barnes.
BRAUN'S BACK
Brewers slugger Ryan Braun doubled to left-center in his first start since April 30, having missed six of the previous seven games with a tight upper back muscle. The left fielder finished 1 of 4.
END OF THE ROAD
Pomeranz gave up six runs and seven hits in four innings, ending a big league-best streak of seven road starts of allowing no more than two runs over five-plus innings.
UP NEXT
Red Sox RHP Kyle Kendrick (0-1) hopes his second start since being called up from Triple-A goes much better than his Red Sox debut on May 4, when he gave up six runs and eight hits over four innings to the Baltimore Orioles. RHP Chase Anderson (2-0), who is holding opponents to a .238 batting average, goes for the Brewers.