Braves' Julio Teheran delivers in another milestone start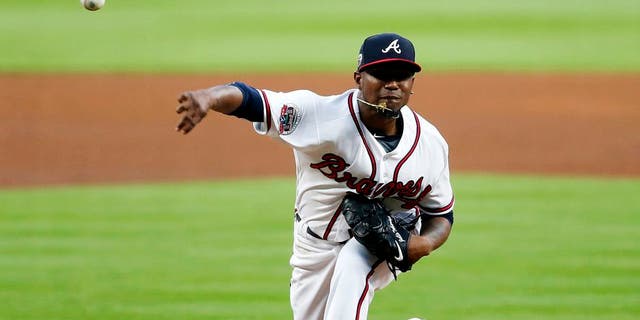 NEWYou can now listen to Fox News articles!
ATLANTA Narrative occasionally syncs with history. As LED lights flickered on and past legendschristened the Atlanta Braves new suburban ballpark and mixed real-estate complex, longtime No. 1 starter Julio Teheran squared up his shoulders with home plate for yet another milestone start in his young career.
The 26-year-old right-hander is growing accustomed to pomp and circumstance 193 days prior to Friday nights festivities he shut down Turner Field with a lights-out performance against the Detroit Tigers, throwing seven scoreless innings with 12 strikeouts. Eleven days prior to SunTrust opening its gates, Teheran took the mound in New York City. It was his fourth consecutive Opening Day start, a string of ceremonial outings matched only twice in Atlanta baseball history.
In a transitional period for the franchise, the Colombia native and former No. 1 pitching prospect hovers as a constant, vital presence.
I know that I didnt have my best and that I was gonna be a tough night for me, Teheran said after throwing 105 pitches against San Diego. But Im happy now that I got this moment, this special moment for the team, for my career. Im happy to be in the history of the team.
Julio Teheran walked out of the first official game at SunTrust Park victorious, his first win of the season, after receiving just enough run support to overcome his shakiest outing of the young season.
Handing Teheran milestone opportunities is not an accident; the ebb and flow of a major-league season does not always cooperate, however. In the inaugural games of the previous seven MLB ballpark debuts from Marlins Park to Citizens Bank Park only the New York Yankees stuck such alanding.
Newly signed ace CC Sabathia, who would help the Bronx Bombers to the World Series title later that season followed by three straight top-five AL Cy Young finishes, opened the new Yankee Stadium in style. Other franchises handed such starts to the likes ofCarl Pavano (Twins), Mike Pelfrey (Mets) and Daniel Cabrera (Nationals). Others, such as the Marlins, Phillies and Cardinals, handed their respective starts to successful pitchers past their prime in Josh Johnson, Randy Wolf and Mark Mulder.
In Atlanta, Teheran and his team-friendly contract are expected to be a long-term staple, especially if he can continue on his recent track.
Struggling with fastball command and relyingon secondary pitches in key spots, he labored through six innings against a young, lacklusterPadres lineup featuring just one premium bat. Teheran gave up two runs alongside five strikeouts. He now owns a 0.95 ERA in three starts against the Mets, Pirates and Padres this season; hes held opposing batters to a .275 on-base percentage since the start of the 2016 campaign, tied for MLBs 9th-best mark with Jake Arrieta.
Timing is key. The franchises three new veterans have been spotty in totalityearly on and Mike Foltynewiczs early-season opportunities include a snowstorm and a surprise relief appearance, stumbling in both scenarios, but Teheran keeps delivering quality.
That was probably a little different than the first two (starts this season). He wasnt real sharp. But, in talking to Tyler (Flowers), I thought that the fifth inning might have been his best inning. I thought he turned the ball loose really good. Wanted him to get back out there and get through the sixth. That was huge.
"He just he never gave in.