Boras: Innings limit for Mets' Harvey became issue when playoffs became possible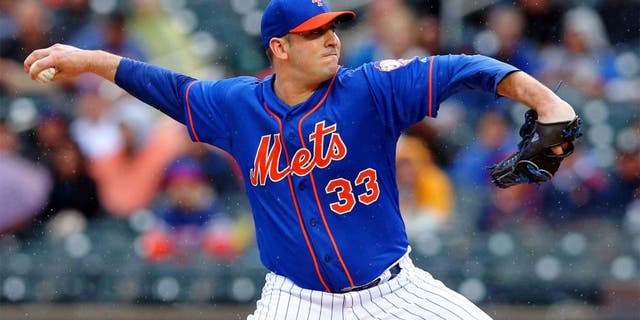 (Editor's note: With Friday's news of his camp's desired 180-inning limit, New York Mets ace Matt Harvey has become embroiled in controversy as the team chases a playoff berth and he sits perilously close to that mark. FOX Sports MLB Insider Ken Rosenthal posted a lengthy account to his Facebook page of a Saturday phone call with Scott Boras, Harvey's agent. The transcript of that post is below.)
Just got off the phone with Scott Boras, who had several points he wanted to make on the Matt Harvey issue:
• Boras said he spoke today with Harvey's surgeon, Dr. James Andrews, and that he plans to meet with Andrews this week.
"Matt Harvey wants to pitch," Boras said. "We're trying to work out a plan that the doctor approves of."
• Boras said he thought the Mets were going to handle Harvey the way the Nationals handled Stephen Strasburg in 2012, and that he met with the Mets to discuss the subject before the season started.
"Where are you at on an innings limit for Matt Harvey?" Boras recalled asking the Mets. "This is Strasburg."
According to Boras, Mets general manager Sandy Alderson replied, "Not all are alike." But the two sides agreed that there should be an innings limit for Harvey.
"I was like, 'OK, that's as far as I could take it. I can't give them a specific number.' But I brought up Strasburg. I brought up innings limits. And they agreed," Boras said.
Boras said the issue became a potential problem only when the Mets' chances of reaching the postseason improved significantly in August, and that is when he reached out to Alderson again.
"My assumption was that they were doing the Strasburg approach," Boras said. "Keep pitching him on his normal day. Let him throw his innings. If he gets there and he's healthy, great. But you may have to shut him down before the end of the season.
"My assumption was that is where we were headed. When the playoffs came up, I called in August and said, 'The playoffs are coming. Where are we on this?' "
• Boras said he did a study of pitchers who had never thrown 200 innings in a season and then had Tommy John surgery and then ramped up to approximately the 200-inning level in their second full season after returning.
The four pitchers that Boras cited were Shaun Marcum, Josh Johnson, Jarrod Parker and Kris Medlen. All experienced complications, Boras said. All but Marcum had a second Tommy John.
In contrast, Boras said, the Nationals' Stephen Strasburg and Jordan Zimmermann built their innings in a steadier progression, reaching 200 innings only in their fourth full season after Tommy John.
That study is why Boras believes it is reasonable to follow Andrews' recommendation of a 180-inning limit for Harvey. Harvey did not throw a single pitch last season and established his career high of 178 1/3 innings in 2013.
"This is the thing the doctors are most scared about," Boras said. "Matt Harvey threw zero innings in 2014. He will be the only player in history ever to go from 0 to 200 innings.
"If you exceed your (career-high innings total) and you do it in your second season after Tommy John . . . all of those guys had complications. All of those guys had problems."