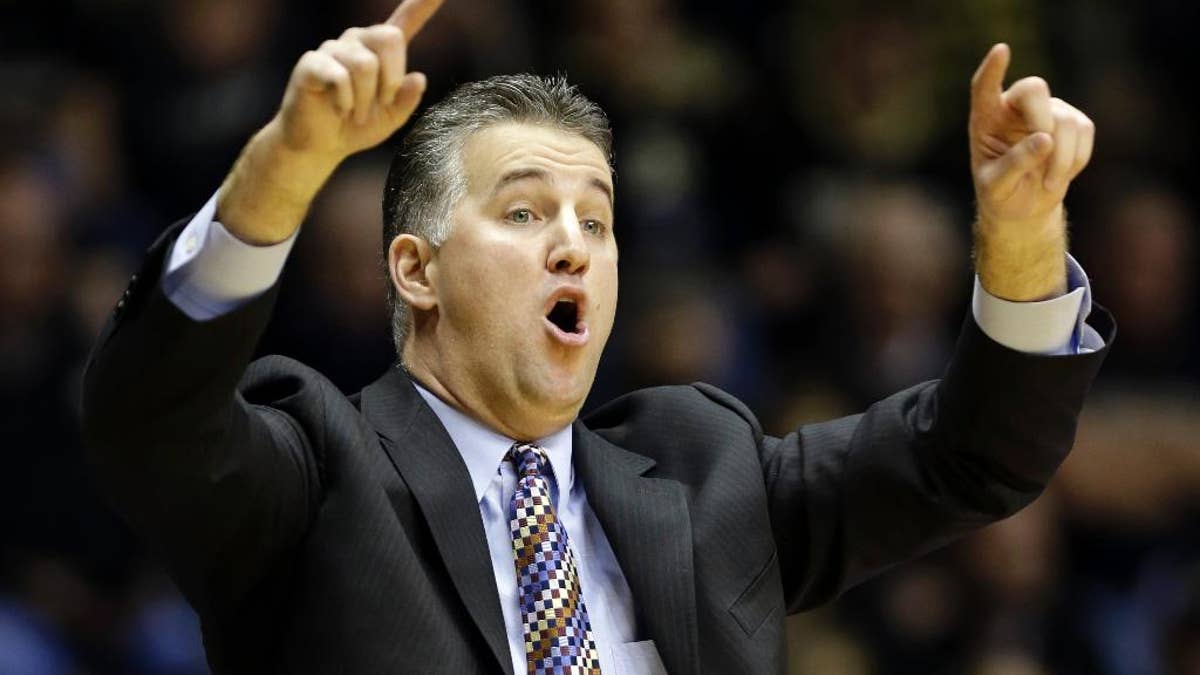 INDIANAPOLIS – Coach Matt Painter blames himself for Purdue's recent slide. So this year, he's going back to basics.
After enduring 35 losses over the last two seasons and a last-place Big Ten finish in 2013-14, Painter is trying to re-create the blue-collar, overachieving culture that has traditionally defined Boilermakers basketball.
"I said it last year, and I got interviewed late in the season about, you know, it's not a school district. That's on me," Painter said. "We just have to get more of a Purdue guy. We feel like we have done that."
Things already look vastly different as Purdue (15-17, 5-13) embarked on a major offseason overhaul.
Painter brought in six new players, and believes each one will fit in with his throwback approach.
He's also going old-school on the court by using 7-foot, 261-pound junior A.J. Hammons and 7-foot-2, 297-pound freshman Isaac Haas together in the middle. If Hammons improves and Haas makes a smooth transition from high school to college, the twin towers could give Purdue the league's most imposing front line.
Painter likes what he's seeing on the court, and Hammons likes the way the big men are working as a team.
"He has great positioning, keeps the ball high and makes almost all of his free throws," Hammons said. "The key to it will be how well I can play (power forward) and how quickly he can challenge a play and then get back."
But Painter is still searching for other solutions. He needs a workable combination at point guard after two-year starter Ronnie Johnson transferred to Houston, and he's expanding his defensive philosophy in hopes of getting better against the Big Ten's array of 3-point shooters.
Fans will get their first true glance at the new-look team Nov. 14 when Samford visits Mackey Arena.
"You have to have those company guys, and we feel in this recruiting class that we've brought in, we have more of those guys," Painter said. "This isn't something where we waited until the end of last year to where we realized we had an issue. It's something we realized, we worked on and obviously made some adjustments."
Here are some other things to watch during the coming season:
ZONING OUT: After years of almost exclusively rely on man-to-man defense, Painter has spent the early practices teaching his young team how to play zone. It's a major change for Painter, but one he believes will give the Boilermakers more versatility with his big men.
FREE THROWS: Last season, the Boilermakers shot a Big Ten-low 67.1 percent from the line. Painter expects much better results this season, and so far, so good it seems. The most promising sign might be that Hammons and Haas were a combined 15 of 17 on free throws in a recent scrimmage game.
MAKING A POINT: Without Johnson, the Boilermakers essentially have three options at point guard — sophomore Bryson Scott, who finished third on the team in assists last season (44), true freshman P.J. Thompson and grad student Jon Octeus, who transferred after starting all 32 games last season at Colorado State.
THREE FOR THE SHOW: Hammons at power forward may not be the only surprise for opponents. After contemplating entering the NBA draft, Hammons spent the offseason working on his 3-point shot. He says he'll use it when he's open in an attempt to spread the floor — and perhaps improve his draft stock.
REUNION TOUR: Purdue's schedule includes two dates with former Gene Keady assistants — Nov. 24 against Bruce Weber and Kansas State in the Maui Invitational and Dec. 13 at Vanderbilt, which is coached by Kevin Stallings.