Bernie Williams' Hero's Welcome, Adrian Gonzalez Welcomes Old Team, and Anibal Sanchez Gets Unwelcome Result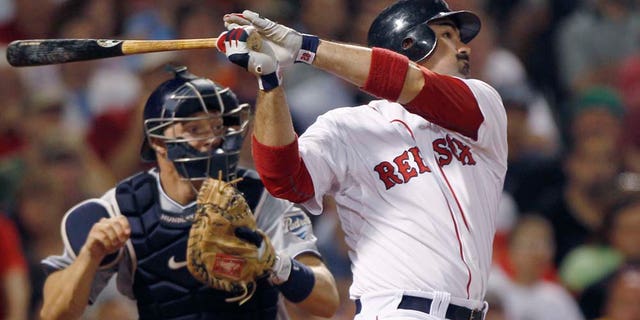 A weekly review of Latinos making news in the world of baseball.
Back at Home for a Day
For one day, Yankees fans reminisced of what once was.
Bernie Williams, standing at the plate with bat in hand and out on the center field green grass he patrolled during the club's championship years. A popular Yankee who had never received a day of honor since he left the game, Williams got a thunderous ovation as the Yankees celebrated Old Timer's Day at Yankee Stadium on Sunday afternoon.
The 42-year-old Williams joined New York in 1991, where he spent his entire career before walking away in 2006. He was a part of four world championship teams with the Bronx Bombers, and was a five-time American League All-Star and won four Gold Gloves.
Williams faced former mate David Wells and doubled to left-center, jogging to second base in his first Old Timer's Day game.
Williams has yet to officially retire and said he isn't too fond of that 'old' label.
"If you take the word 'old' I think I'd be a little uncomfortable with it," Williams said during a press conference before taking the field for the afternoon's festivities. "But as a player, when I was playing, I looked forward to these days. To me it was a reminder of the fact that we're part of a family that has been going on for 100 years, and thinking I was part of something that was bigger than myself, it was always cool to look forward to."
Among his favorite moments as a Yankee: the 1996 parade, winning the 1998 batting title and the last day at the old Yankee Stadium.
We Know Those Guys
Boston's Adrian González and Toronto's Yunel Escobar faced their old teams for the first time after they were traded away.
The Padres sent González to the Red Sox during the offseason and traveled to Fenway Park for a three-game set, taking two out of three.
González welcomed his former team to his new digs, going 3 for 5 with three RBIs and two runs scored in a 14-5 rout in the first game of the series. He drove in all of his runs as the Red Sox broke a 3-all tie with a 10-run seventh inning.
"It was good to see them before the game and catch up with them, but once the game started, it was all about playing the game," said González after the victory, who then added five hits as Boston lost the next two games of the series.
For Escobar, the trip back to his old home wasn't too pleasant as the Blue Jays were swept in their three-game set in Atlanta.
The Braves parted ways with Escobar after the All-Star break last July.
Some fans booed him during his four at-bats last Monday night. He had one hit in each of the three games.
Back to Old Self
Colorado's Ubaldo Jiménez won his third straight start last Friday against the Yankees in New York, and looks like he's finally starting to turn the corner.
Dominant during the first half last season, he's been the opposite this season.
He struggled early on but settled down after the third inning and mixed it up with his changeup, slider and curve.
"I feel completely comfortable, confident that every time I go out there I'm going to give my team a chance to win," said Jiménez about his struggles on the mound. "That's how I felt last year. At the beginning of the year, I had a little doubt in my mind."
Despite his 3-7 overall record, he has gone 3-2 this month with a 2.43 ERA.
Ready for Action
According to MLB.com, Carlos Guillén will go on a minor league rehab assignment after undergoing micro-fracture surgery on his left knee back in September.
The Tigers infielder was taken out on a hard takeout slide at second base last August during a game against the Yankees to end the game.
He will see his first action Monday with Class A Lakeland and could be back in Detroit in July.
The plan is for him to be the DH and then work himself as a second baseman.
Just Not Enough
Aníbal Sánchez has been about the only good thing for the Florida this season, but the team has lost four of his five starts this month.
He has been exception in June, pitching 31.2 innings and striking out 33 batters, but the team has lost all but one of those games, including his no-decision Sunday night against the Seattle Mariners.
Still, the right-hander is 6-1 with a 2.82 ERA this season.
Adry Torres, who has covered MLB, NFL, NBA and NCAA basketball games and related events, is a regular contributor to Fox News Latino. He can be reached at elpiloto137@gmail.com or follow him on Twitter: @adrytorresnyc.