Ben Rothwell says it was 'strategically stupid' to accept fight against Junior Dos Santos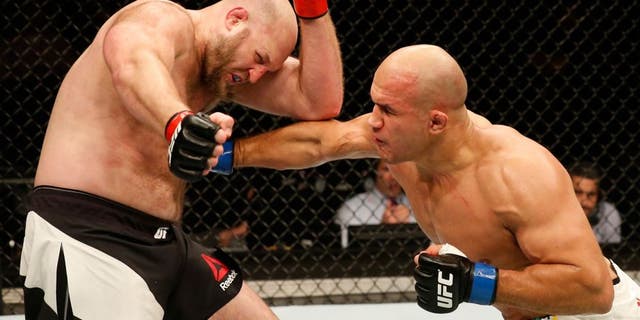 Ben Rothwell was riding an impressive four-fight win streak -- all of which came by way of finish -- over a span of three years and needed potentially just one more win to establish himself as the No. 1 contender in the tough heavyweight division.
That win was supposed to come against former champion Junior Dos Santos at UFC Rotterdam last month, but "Cigano" threw a wrench in Rothwell's title plans by blanking the Wisconsin native over five rounds.
Reflecting on the loss with The MMA Hour, Rothwell said that accepting the fight against striking ace Dos Santos was "stupid."
"I was on a four-fight win streak and I took on a guy off a loss. It was a stupid fight for me, strategically. There some regret and there's not. I think more, not regret, but a learning lesson. I think right after the fights, I need to be locked up and somebody else needs to take my phone and take my wallet, because I get crazy after a fight. It's when I do crazy interviews, it's when I'm off the wall, and I think I get high off the wins. I don't know what it is, but it's obvious I'm not thinking rationally at the time. It was good for the UFC because they got to fill a main event. It was just a strategically stupid fight."
Rothwell entered the fight not only on the aforementioned win streak, but as the fourth-best heavyweight in the world behind only Stipe Miocic, Cain Velasquez and champion Fabricio Werdum. Dos Santos was coming off a KO loss to Alistair Overeem, whom Rothwell knocked out during his streak, and hadn't won back-to-back fights since 2012.
However, Dos Santos' strong performance against Rothwell propelled him all the way up to fourth in the rankings, sending "Big Ben" down one spot to fifth.
While the loss doesn't eliminate Rothwell from title contention, he'll certainly need a few more wins to get back in the neighborhood of a title shot, when he was knocking at the door just a month ago.