Baylor All-American DL Oakman, DB Stewart suspended for season opener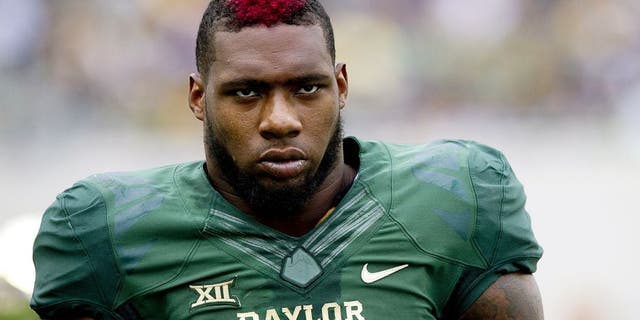 Baylor All-American defensive lineman Shawn Oakman will miss the Bears' opener against SMU for a violation of team rules, the school announced on Thursday night. All-Big 12 defensive back Orion Stewart also has been suspended for one game.
The 6-foot-9, 271-pound Oakman, a senior, set a Baylor record with 11 sacks in 2014 to go with 19.5 tackles for loss. Stewart had 82 tackles and four interceptions. Both players are expected to return in Week 2 against Lamar.
Bleacher Report first reported the news of Oakman's suspension.
The No. 4 Bears, with their highest preseason ranking ever, open the season Friday night at SMU, their former Southwest Conference rival playing its first game under new coach and Texas native Chad Morris.
The opener comes two days after Baylor hired a Philadelphia law firm to do an independent investigation into the university's handling of sexual assault complaints, including one against former transfer Sam Ukwuachu. Ukwuachu, a defensive end who never played for Bears, was sentenced last month to six months in jail and 10 years of probation for assaulting a former Baylor women's soccer player.
Morris, Clemson's offensive coordinator the past four seasons, took over an SMU team coming off a 1-11 season.
Some other things to know when Baylor plays at SMU for the first time since 2005:
REUNITED, SORT OF: Before dual-threat quarterback Matt Davis went to Texas A&M and redshirted as a freshman behind Johnny Manziel, he was recruited by Morris, then at Clemson. Davis played his 2013 season in junior college before going to SMU, where in the final five games last season he had 1,270 total yards, with rushing games of 191 and 181 yards. Now Morris, with his up-tempo scheme, is his new coach. "He's an ideal fit for this offense, I'm just excited about him and what he can do," Morris said.
STARTING SETH: Like Bryce Petty and Nick Florence before him, new QB Seth Russell had to wait his turn to take full control of the Baylor offense. In his only start as a sophomore last season when Petty was hurt, Russell passed for 438 yards and five touchdowns playing only the first half against Northwestern State. "There is pressure, but he's done a great job of managing the pressure on the field and at practice," All-America tackle Spencer Drango said.
OLD RIVALS: The Mustangs and Bears played annually from 1916-95, with the exception of four years: 1943-44 and then 1987-88, when SMU's program was shut down because of repeated NCAA violations. This will be only the fifth meeting the past 20 seasons since they end of their days together in the old Southwest Conference. Baylor has won the past 11 games to take a 37-36-7 series advantage.
CHALLENGING START: Two of SMU's first three opponents are against No. 4 Baylor and then Sept. 19 at TCU. The last time the Mustangs played two top five teams in the same season was 1974.
The Associated Press contributed to this report.