Baltimore Orioles at Tampa Bay Rays game preview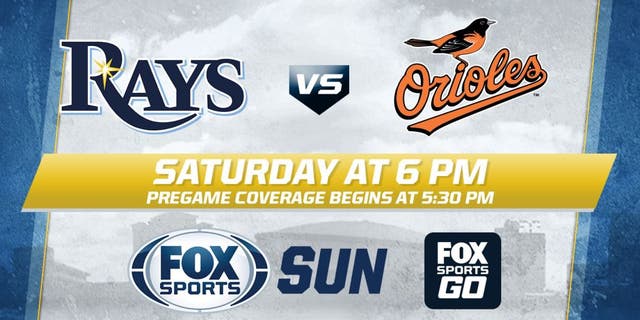 TV: FOX Sports Sun
Time: Pregame coverage begins at 5:30 p.m.
CAN'T GET TO A TV? WATCH IT LIVE ON FOX SPORTS GO
ST. PETERSBURG, Fla. -- Momentum can be difficult to stop in baseball, and as the Tampa Bay Rays try to end a slide that has carried over after the All-Star break, they'll do so Saturday against a tough pitcher in the Orioles' Chris Tillman.
Three times already this season, Tillman has faced the Rays, and three times the Orioles have won -- even a June 25 outing in which Tillman gave up 10 hits and six earned runs in five innings in an 8-6 win.
For the season, Tillman is 2-0 with a 3.78 ERA against the Rays -- he was 5-9 in his career against Tampa Bay this season, but is pitching well, with a 12-2 overall record and a 3.41 ERA. Orioles manager Buck Showalter said it's important to get quality starts coming out of the break after using four relievers in Friday's win.
"We're not going to have a rested bullpen the way we did tonight for the next 74 games," he said. "We were fortunate tonight -- you don't usually walk seven guys and win a game."
It hasn't mattered much who the Rays are facing on the mound of late -- they've lost seven straight and 23 of 26, the worst stretch in franchise history and worst by any team in baseball this season. It's also the worst 26-game stretch by any American League team since the 2003 Detroit Tigers.
What's more, the Orioles are 8-2 against the Rays this season, including six straight wins, their longest streak against Tampa Bay since 2007.
The challenge of ending the skid falls on left-hander Matt Moore, who has been mentioned as a trade possibility as the Rays move into seller mode as a result of playing in cellar mode with a 34-55 record.
Moore has lost to the Orioles twice this season -- he has given up eight earned runs in 13 2/3 innings with 15 strikeouts but not much else to show. For his career, he's 5-6 against Baltimore with a 4.46 ERA.
Within the last five weeks and the Rays' terrible skid, Moore has been their best bet to win. In the last 29 games, he is 3-2 and the rest of the pitching staff is a combined 3-21.
That's nearly the opposite of Friday's starter, Chris Archer, who has seen the Rays win just once in his last 11 starts -- and none since June 6. The Rays brought Archer back out for the eighth inning in a tie game on Friday and it backfired, as he gave up the deciding run on a solo home run to Jonathan Schoop.
"We felt, or I felt, that Arch was the best option there to get those two righties," Rays manager Kevin Cash said of Archer's no-decision. "I still feel that way. He just left a pitch up ... a slider up to Schoop."