Badgers LB Biegel takes another step forward, upgraded to questionable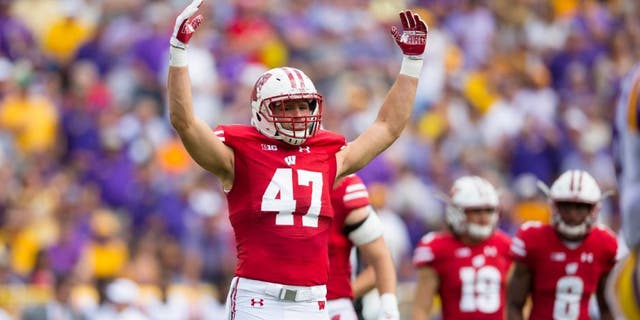 MADISON, Wis. -- Wisconsin's defense could soon be getting an energy boost.
Outside linebacker Vince Biegel is listed as questionable on the injury report to start practice this week ahead of the 10th-ranked Badgers' road game Saturday at Iowa.
It's a big step forward for Biegel, who has missed the last two games with a right foot injury .
Wearing sweats before Saturday's game against Ohio State, Biegel jogged on the field and played catch. He did some light individual work before joining the rest of his team for warmups.
Biegel looked like an unofficial coach the way he nervously paced the sideline and joined his team in defensive huddles during timeouts.
"But it's been more of an energizing thing than an anxiety," coach Paul Chryst said Monday. "The two games that he's missed to this point, that has bothered him a lot."
When healthy, Biegel and fellow outside linebacker T.J. Watt form one of the best outside linebacker combinations in the Big Ten. Biegel's outgoing personality is complemented by unique hairstyles that make him stand out.
He has missed the loss to Michigan and to Ohio State, which sandwiched a bye week for the Badgers (4-2, 1-2 Big Ten).
"Vince loves playing the game and he really in all the right ways cares about this team, and so that's been the sting for him," Chryst said.
The defense has played relatively well even without two starters at linebacker, though Wisconsin could have especially used Biegel last week against the Buckeyes.
Inside linebacker Chris Orr was lost for the season in the opener against LSU because of a right knee injury. T.J. Edwards has stepped in for Orr. Garrett Dooley has moved into the starting lineup for Biegel, while freshman Zack Baun has also seen more playing time in the outside rotation.
Watt has emerged into a force with 5 1/2 sacks. So has Jack Cichy, who was named the Big Ten Defensive Player of the Week for a career-high 15 tackles in the 30-23 overtime loss to Ohio State last week.
Cichy played inside linebacker in high school. But until midway last season, the former walk-on was playing outside linebacker.
He earned the nickname "Three-Sack Jack" after getting sacks on three straight plays during Wisconsin's win over Southern California in December in the Holiday Bowl.
It seems that he's found a home on the inside.
"It's kind of helped me have a better understanding of the whole defense, in that it helps me play a little faster, a little freer," Cichy said. "I know what some of the outside guys are doing, as well as what I'm supposed to be doing on the inside, so I think it ties the whole picture together."
That picture could get a whole lot brighter if Biegel is able to return against Iowa. Chryst said Biegel's availability will be determined later in the week.
With two losses in Big Ten play, Wisconsin is already two games behind undefeated Nebraska in the West Division. There is little room for error for the Badgers to reach the conference title game.
"I think we all know how Vince would approach that," Cichy said when asked if Biegel would lobby to be cleared for the Iowa game. "It will be exciting to unleash him again, whenever that is."