Badgers could have next two impact transfers on hand in James, Nelson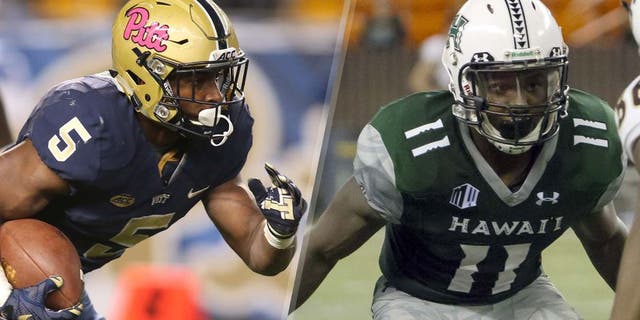 MADISON, Wis. -- From Russell Wilson to J.J. Watt, Wisconsin has become a home for transfers who have blossomed into impact players.
The Badgers have a good track record, and offensive lineman Ryan Ramczyk could be taken in the first round in the NFL draft next week after a strong 2016 season, his one year with the Badgers.
Running back Chris James and cornerback Nick Nelson are the latest transfers in position to make impressions at Wisconsin. They were eager to finally get on the field on Friday night, even if it was just for the annual scrimmage that wrapped up spring practice.
The wait to join teammates in uniform in front of fans is over after sitting out their redshirt seasons in 2016.
"A team is almost like a fraternity," James said. "Who is this guy? Can we rely on him to make that block on Saturday. … I hope that everything I do at practice helps."
James played two seasons at Pittsburgh, rushing for 143 yards for 690 yards and four carries. He followed coach Paul Chryst, who returned to his alma mater after three seasons as the Panthers' head coach.
Nelson started his career at Hawaii, where he had 51 tackles and a sack as a sophomore in 2015. Nelson's connection to the Badgers was former defensive backs coach Daronte Jones, who has since moved on to the Miami Dolphins.
Nelson stayed at Wisconsin. He's slated to take over the starting cornerback position vacated by four-year starter Sojourn Shelton.
"He came here to get better. He's put in the time … through a (redshirt) season," defensive coordinator Jim Leonhard said. "He's a guy that's not going to say a word, but you can see it in his eyes, see it in his smile."
The Badgers can only hope for now that James and Nelson can have the kind of impact that Wilson had in his one season at Wisconsin. The Seattle Seahawks quarterback set a standard for transfer success with his one college season with the Badgers, when he threw for 33 touchdowns and ran for six in 2011. Wisconsin lost the Rose Bowl that season to Oregon, 45-38.
"I thought about this with Russell, and I think it really applies to all of them -- a transfer has to have enough confidence in himself that he can contribute or add value to the team," said Chryst, who was Wilson's offensive coordinator at Wisconsin. "Conversely, the team is confident with who they are. Confidence allows you to accept someone from outside."
Chryst said each transfer's story is a little different, though each player is usually looking for more opportunity to play. He can't necessarily think of a common thread that ties together the transfer success stories, other than the due diligence that Wisconsin does to find the right fits, for both the school and the player.
"I think we try to do a good job knowing who you're bringing in. The culture is … a big part of this place," Chryst said.
Wilson transferred from North Carolina State looking for a pro-style offense. Watt transferred from Central Michigan, leaving as a junior following the 2010 season after posting 62 tackles, including 21 for losses, and seven sacks in his second season at Wisconsin.
Ramczyk was a first-team AP All-American, following up on a strong redshirt year after his transfer from Division III Wisconsin-Stevens Point.
At Pittsburgh, Nelson was also able to consult with Brian Calhoun, a former Wisconsin running back then on the Panthers' staff. Calhoun played two seasons at Colorado before returning to his home state and transferring to Wisconsin.
He ran for 1,636 yards and 22 touchdowns in 2005, his only season with the Badgers.
James said he was fortunate to be able to consult with Calhoun. James and sophomore returnee Bradrick Shaw figure to get the bulk of the carries for the vaunted Wisconsin running game.
Calhoun is "a guy who transferred over and then he did just amazing things," James said. "It's kind of a coincidence, here I am, the running back now transferring in and hoping that I can fill those shoes."