AUTO PACKAGE: Denny Hamlin returns home to Virginia ready to race after neck spasms at Bristol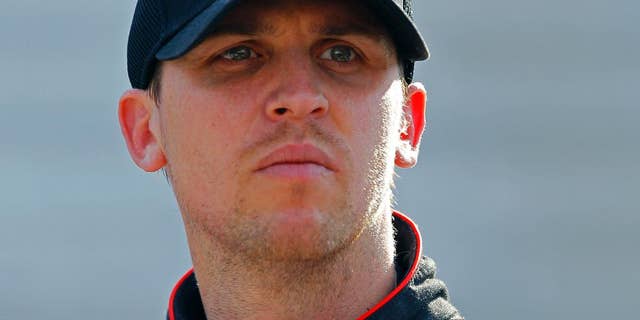 CHARLOTTE, N.C. – Denny Hamlin will be back behind the wheel of his car this weekend at Richmond International Raceway, the hometown track of the Virginia driver.
It's always a big week for Hamlin, who hosts a late-model charity race, the Denny Hamlin Short Track Showdown, at South Boston Speedway for his foundation. Hamlin intends to compete in that event, then rejoin his Joe Gibbs Racing team for Saturday night's Sprint Cup race.
Hamlin does not believe the neck spasms that forced him out of his car Sunday at Bristol will spoil his week. He's also scheduled to run the Xfinity Series race on Friday night.
"After treatment this week, I feel close to 100 percent," Hamlin said through his team Wednesday. "I'm confident that I'll be good to go this weekend."
Hamlin felt something wrong in his neck 12 laps into Sunday's race. Rain stopped the event 10 laps later, and he was unable to gain any relief through treatment during a delay of nearly four hours.
JGR flew Erik Jones in from North Carolina, and the 18-year-old arrived five minutes before the race resumed. He climbed into Hamlin's car and finished the race in his first career appearance in a Sprint Cup car.
"Obviously, getting out of the car on Sunday was a very tough decision," Hamlin said. "Erik did an admirable job under difficult circumstances."
Hamlin, who grew up about 20 minutes outside of Richmond in Chesterfield, Virginia, makes the two annual trips to his hometown track a reunion of sorts. He's a two-time winner at Richmond, and takes pride in the Short Track Showdown, which is in its eighth year.
The 200-lap feature includes Hamlin and other NASCAR regulars against many newcomers. The event has raised more than $150,000 the last years for the Denny Hamlin Foundation, which raises awareness and resources for cystic fibrosis research.
___
NASCAR-JOHN DARBY: Former Sprint Cup Series director John Darby is parting ways with NASCAR.
Darby told some of his staff of his upcoming departure this week, and NASCAR confirmed Wednesday the longtime garage boss will be leaving.
Darby was the director of NASCAR's top series from 2002 through 2013, and was replaced last season by Richard Buck. He's been working on special projects since Buck took over.
NASCAR had said in 2010 that Darby would be moving into a role at the Research & Development Center, but it took nearly four years to find a replacement and for Darby to transition into the new role.
___
INDY 500-BELL: Townsend Bell will return to the Indianapolis 500 this year with Dreyer & Reinbold-Kingdom Racing.
Bell will attempt to qualify the No. 24 Chevrolet in next month's race with sponsorship from clothier Robert Graham. The luxury label also sponsored Bell in last year's race when Bell was second with 10 laps remaining before a crash ended his day.
In addition, the Robert Graham Special will salute four-time NASCAR champion Jeff Gordon during the race by designing the No. 24 on Bell's car to match the styling on Gordon's Sprint Cup Series race.
Gordon, who grew up in Indiana, is retiring at the end of the year.
"We felt it was appropriate to salute Jeff's tremendous career by running the number he's made so famous," said Bell.
Bell is a 24 Hours of Daytona and 12 Hours of Sebring champion who currently competes in the United Sports Car Championship and the 24 Hours of Le Mans.
Bell is the only driver currently scheduled to compete in both the Indy 500 and Le Mans this season.
Bell is also an analyst for IndyCar Series race on NBC Sports Network.