Austin Cindric to trade in firesuit for graduation gown before Truck race at Charlotte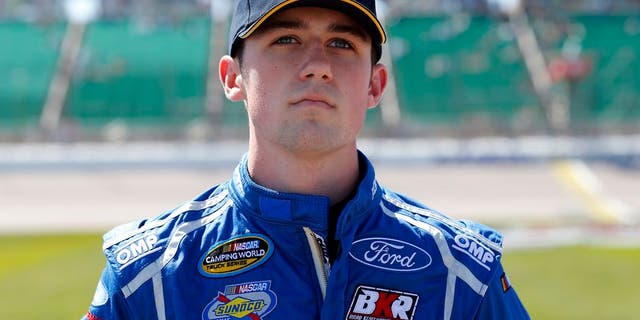 CONCORD, N.C. -- Austin Cindric will celebrate a milestone before strapping into his race truck Friday night at Charlotte Motor Speedway.
Prior to the NASCAR Camping World Truck Series NC Education Lottery 200 (8 p.m. ET, FS1), Cindric will become a high school graduate from Cannon School, located just up the road from CMS in Concord, North Carolina.
Although it will be a quick turnaround between the graduation ceremony and getting to the racetrack in time for qualifying, Cindric, son of Team Penske president Tim Cindric, wont be wearing a firesuit under his graduation gown.
Im afraid that would be pretty hot, Cindric said Thursday at Charlotte Motor Speedway. I actually graduate in the morning and I go to school right here at Cannon School, so right down the road. Ill be there at 8 (a.m.), get done with the deal at 10 (a.m.) and be there when the garage opens.
Itll be all business for the 18-year-old after receiving his high school diploma.
After I get up on stage and get what I call my glorified receipt, Im straight off to the races and off to the real world, Cindric said. Im fully focused on my job and hopefully well get a good run in my TI Printing Ford F-150 because weve had a rocky start to the year.
Despite a busy day, Cindric is ready for the challenge.
Im usually good at messing up logistics for people by trying to drive too many things in one weekend, Cindric joked. It almost makes sense that I have graduation on the same day as race day.
On top of it all, Cindrics mother is also celebrating a birthday Friday. The jam-packed weekend forced Cindric to plan ahead.
We went to dinner last night (Wednesday night) with my mom and some of my family, Cindric said. I decided it was better to celebrate her birthday then because Im kind of ruining it by making her get all hot and sweaty at a NASCAR track.
He even picked out a cool, unusual gift for her.
I run out of things to find her, so I got her a double knife for peanut butter and jelly, he added. You can flip the blade so you dont have to go in the drawer and get a second knife. I thought that was pretty good.
Looking toward the future, Cindric knows now is the prime time to focus on his racing career, rather than attend college right away.
Education is extremely important, and obviously, my parents do, as well, Cindric said. It was hard to convince my mom that I should probably focus on the racing deal. In NASCAR, or even in many sports and other forms of racing, you only get one true shot at it. I feel like this is it for me. I feel like a lot of NASCAR teams look past you when youre 20 or 21 years old. Youre still a young guy, but at that point, youre not the young guy.
But Cindric is not completely ruling out furthering his education at some point down the road.
You can always go back to school, he added. Ive always gotten good grades. My mom wouldnt have let me do racing, otherwise. But Im fully prepared to go to college. I think years on, whether the racing thing is going the way I want it to or not, I feel like Ill end up doing some online classes and learning a little bit more.
Overall, Cindric is excited to finally put high school behind him so he can focus on his passion.
I dont have too many strong ties because most of my life and friends are in the racing community, Cindric said. Its more of a sigh of relief and a box to be checked. Its another chapter of my life where I can turn the page and go racing.
But the relief of graduating doesnt stop Cindric from thinking about what he may have missed out on by choosing to be at racetrack week in and week out.
I feel like Ive learned many more life lessons being at my age and where Ive been so far in my racing career than I would have being a normal teenager, Cindric said. But I have missed out on the relationships and the friends and the proms. Theres a part of me that always thinks about what I would be doing if I wasnt racing. But I feel like thats normal for someone in my position.
There are probably some things that I havent gotten, but theres so much more that Ive gotten from racing, he added. If you have a passion, you have to pursue it. I wouldnt have done it any other way.
After graduation, Cindric will then quickly focus on getting his season back on track and earn his second top-10 finish of the year.
Kansas we got a solid top 10, so that was a nice swing of things, Cindric said. Hopefully thats in the right direction. We have a good string of races coming up to hopefully build on that.