Astros' Correa done tackling after visiting J.J. Watt in Texans camp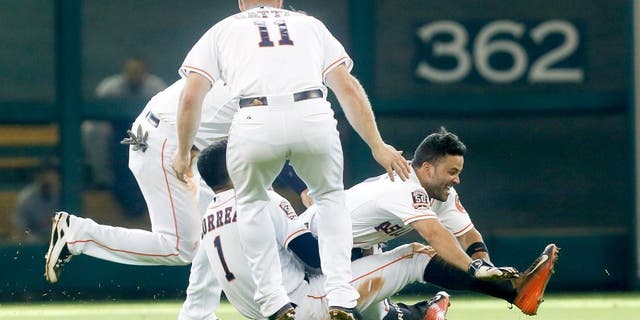 NEWYou can now listen to Fox News articles!
Houston Astros' star Carlos Correa is having second thoughts about jokingly saying he'd like a tryout with the Houston Texans after a pretty impressive tackle of 5-foot-5 Jose Altuve during a postgame celebration this weekend.
The rookie shortstop, who was the first overall pick in the 2012 draft, attended training camp on Tuesday and saw Houston star defensive end J.J. Watt level running back Alfred Blue with a tackle behind the line.
Correa said: ''I saw J.J. with a nice tackle out there and I'm like: `Wow, I better quit tackling people.'''
The 6-foot-4 Correa also tossed a football around with Watt - and came to a realization.
He said: ''When I'm on the baseball field I feel like the big guy. When I'm on the football field I feel like the small guy, I feel like the Altuve here.''