As roster expand, Pirates put a premium on big-league experience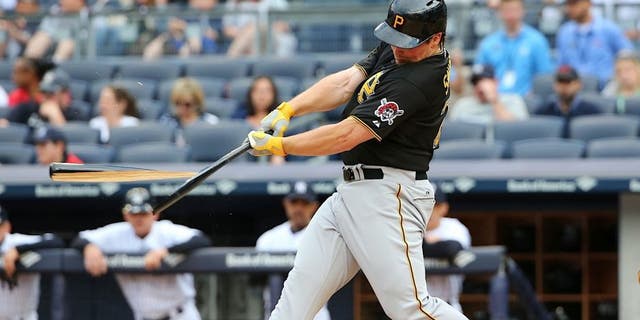 NEWYou can now listen to Fox News articles!
Rosters expand to 40 players Tuesday and the Pittsburgh Pirates aren't fooling around.
Rather than stock up on prospects who haven't been in a big-league dugout, the Pirates are seeking to bring in players who have been around the block.
According to MLB.com, the Bucs want to load up on players with major-league experience to lend a hand during the final month of the regular season.
MLB.com reports that among the first wave of eight call-ups, seven are "seasoned" major-leaguers, and six have already appeared with the Pirates this season. MLB.com offered a brief analysis of each of the expected call-ups:
Elias Diaz, catcher: He'll immediately become the best defensive catcher on board. Diaz's arsenal includes a terrific arm, so he will be a late-game deterrent to the Bucs getting stolen blind.
Travis Snider, outfielder: He'll be the No. 1 lefty bat off the bench. Before relieving a slumping Gregory Polancoin right field last season, Snider batted .250 with two homers as the Pirates' busiest pinch-hitter.
Jaff Decker, outfielder: A superb defender, he will give Clint Hurdle a third option in center field for late-game moves.
Pedro Florimon, outfielder: See "Decker," and apply to shortstop.
Bobby LaFromboise, left-handed pitcher: He will be what neither of the two incumbent lefties in the bullpen (Tony Watson,Antonio Bastardo) are -- a matchup southpaw.
Radhames Liz, right-handed pitcher: After an effective early-season tenure in the Bucs' bullpen, he returned to starting in Indianapolis and posted a 1.67 ERA in 10 starts. Liz will be a staff wild card.
Vance Worley, right-handed pitcher: He may not be an early callup, because J.A. Happ's effectiveness negates an immediate need for a starter, but the Pirates will eventually want to enlist his experience.
Rob Scahill, right-handed pitcher: He may also be left off the first boat, in which case he will remain on call as a hard-throwing fireman who has spent two months working his way back from forearm issues.
(h/t MLB.com)