Armia climbing to first-line star in Finnish League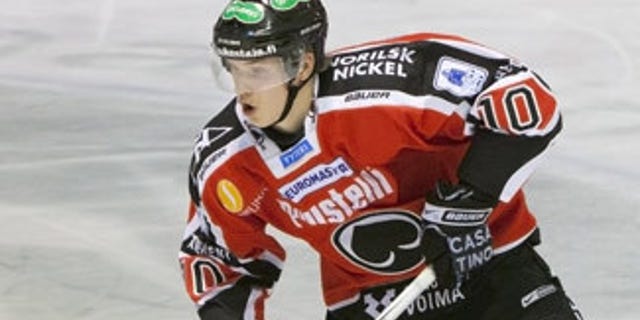 How special is Finland's newest hockey prodigy, Joel Armia?
Assat Pori coach Pekka Rautakallio needed just one month to determine that the 17-year-old right wing was talented enough to play on his team's top line. Keep in mind, Assat plays in SM-liiga, Finland's top professional league.
"I just thought he was ready to play on our first line and we just needed to find the right center to play alongside him," Rautakallio, a former NHL All-Star with the Atlanta/Calgary Flames, told NHL.com. "We finished second in the league with Joel our first-line right winger and he finished second on the team in goals."
Armia's quick adjustment to faster and bigger opponents not only surprised Rautakallio, but every hockey fan in the country.
"Day by day he was getting better, and what I mean by better is his puck handling … he has great hands and a good hockey sense," Rautakallio said. "He has surprised everyone in the whole country, especially the hockey people."
It certainly helped that Rautakallio decided to place Armia on a line with 33-year-old center Aki Uusikartano and Anaheim Ducks prospect Tomas Zaborsky on left wing.
"Aki has definitely been a big help," Armia told NHL.com. "Both help with so many things. The adjustment this year hasn't been that tough because of them; it was easy."
Armia, who was ranked No. 2 among European skaters on NHL Central Scouting's mid-term ratings of prospects for the 2011 Entry Draft, spent last season in the Assat junior system with the Under-20 and Under-18 teams. He had 15 goals, 21 assists and 32 penalty minutes in 27 games for the U-20 team. At the World Under-17 Hockey Challenge, he had 5 goals and 8 points in five games.
"It was then I told our organization that I would like to have this young man start this season with us," Rautakallio said.
The decision turned out to be prophetic. The 6-foot-3, 191-pound Armia had 18 goals, 29 points and 24 penalty minutes in 48 regular-season games this season.
He also played for Finland at the 2011 World Junior Championship, in Buffalo, N.Y. The second-youngest player on the team, he had just 1 assist six games as Finland finished a disappointing sixth.
"He did not play quite as well as I expected (at WJC)," said one NHL scout from a Western Conference team. "I was hoping to see more; he's been scoring unbelievably good in the Finnish league. Obviously he's big, but needs to fill out. His skating is good and he goes to the net well. Maybe I expected him to do a little more with the puck, be a little more creative. He's a solid draft pick and he'll go high in the draft. It might have been a bit of culture shock for him playing in a big tournament in North America. Armia will be back at World Juniors next year, though, and be much improved."
While not flashy, Armia usually is in the right spot at the right time.
"He's big and tall but surprisingly mobile for a player of his size," NHL Director of European Scouting Goran Stubb told NHL.com. "He's a sniper with a good selection of shots. You might have to look for him during some shifts, but then, suddenly, he scores the winner."
When asked to compare Armia to another Finnish player he either played with, against or coached, Rautakallio refused.
"He's going to be a different kind of Finn in the NHL," Rautakallio said. "He just needs to add a couple more kilos to that frame of his. I know there have been comparisons to Teemu Selanne, but while they both have that sniper mentality, Teemu was quicker when he arrived in the NHL.
"The thing I like about Joel is he's very humble. He wants to know what I expect and he's willing and ready to execute it. That tells me he really wants to learn how to play, how to be a better hockey player."
Armia, who considers himself a goal scorer and prefers to use his wrist shot, is looking forward to the 2011 Entry Draft at the Xcel Energy Center in St. Paul, Minn., on June 24-25. He wasn't too thrilled with all the media hype in the local Pori papers earlier this season, but that coverage since has subsided.
"It tells you quite a bit about him … how he was able to handle the pressure and how he was able to handle all the attention he got from the press and from the team," Rautakallio said. "To think, last summer he wasn't even close to being able to play for the junior national team in Buffalo. But once he started the season, he proved his potential and was doing it step by step."
Not only that, he also has proven to be reliable in his own end.
"He was one of the most improved young talents in the Finnish league and has a very good understanding of his defensive duties," Stubb said.
Rautakallio said he would like to see Armia shoot the puck a little more.
"He doesn't shoot as much as I hope. Sometimes he wants to make the fancy play, but where he's capable of challenging is in 1-on-1 (situations)," he said. "He wants to make all those other players look good, but he's got to be a lot more selfish and take the shot."
Follow Mike Morreale on Twitter at: @mike_morreale