Anderson Silva: I'm not a liar, I've never used any sort of PED's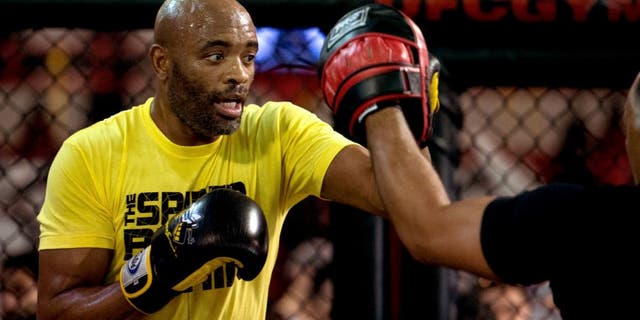 NEWYou can now listen to Fox News articles!
More than a year after Anderson Silva tested positive for a cocktail of illegal substances surrounding his fight with Nick Diaz, the decorated former middleweight champion is still sticking by his story that he never knowingly took any kind of performance enhancing drug.
A pre-fight drug test found Drostanolone and Androstane in Silva's system -- both of which are classified as banned, performance enhancing drugs -- and a post fight test also showed Drostanolone in his system as well as two more drugs that were deemed illegal as well.
Silva claimed innocence and said that a tainted sexual enhancement product that he was given by a friend was responsible for the positive tests. The Nevada State Athletic Commission disagreed with Silva's claims and suspended him one year for the infraction.
Now as Silva looks to get his career back on track with his fight in London against Michael Bisping on Feb. 27, he's trying to put the past behind him but he's still saying that he committed no wrong doing then and it's not anything he's ever done wrong before either.
"The past is the past, I don't want to get too much into that but at the end of the day I wanted everybody to know that I'm not a liar," Silva told media last Thursday in Los Angeles.
"Unfortunately, it didn't come off that way but I always told the truth, I've never used any sort of PED (performance enhancing drug) of any sort and I'm excited to get back in there and fight and who knows even fight for a title."
In the lead up to his fight with Bisping in less than two weeks, Silva has been subjected to a slew of allegations from the outspoken middleweight who has faced his own fair share of cheaters in the past.
Bisping has taken on a laundry list of opponents throughout his career who have tested positive for banned substances in the past or used a treatment like testosterone replacement therapy, which has now been outlawed by athletic commissions across the United States.
While Silva has never tested positive for another substance prior to the testing that was done in 2015, Bisping has stated emphatically that he believes the Brazilian has been using illegal drugs his entire career.
"He's doing it his whole career," Bisping said at the same media session. "If you look at him in PRIDE, he weighed in at 168 pounds. Now he walks around at 40 pounds heavier. Do the math."
Whether Bisping's allegations have merit or not, he's still banging the drum leading up to their fight but Silva says none of it really bothers him.
He's faced trash talk before and Silva doesn't care what Bisping has to say to him or about him in the lead up to their fight.
They are still going to meet in the center of the Octagon and Silva promises to settle things with Bisping there and not in the court of public opinion.
"Come on people, I've been in this sport for a long time and people have said a lot of things," Silva said. "But once the Octagon door closes it always changes."