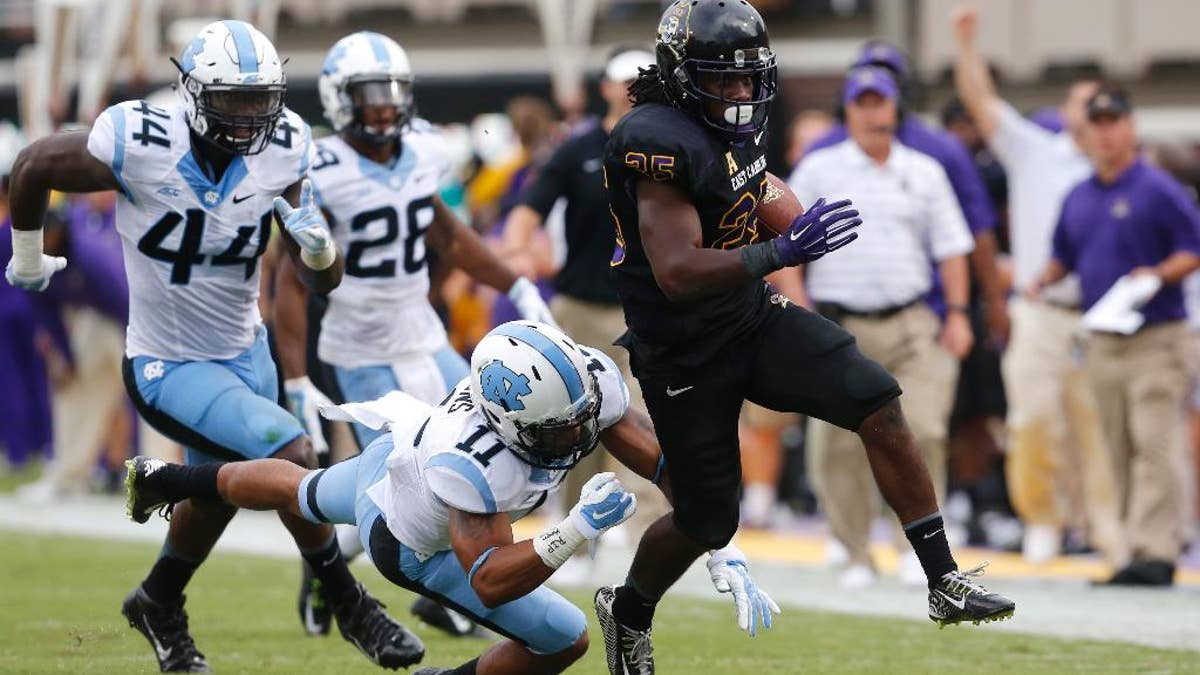 GREENVILLE, N.C. – For now, at least, Breon Allen is the leader of No. 22 East Carolina's rushing attack.
Allen is coming off a 200-yard game heading into Saturday's game against SMU in their American Athletic Conference debut. That made him the first player in a backfield rotation to turn in a big performance for a team looking to replace a lot of lost production from a year ago.
"Every day, you've got to come out here and work for your job," the senior said. "That's the kind of team we are. We push each other every day. And we have the type of people on this team that if one person's not doing what they're supposed to, someone else can step up."
Allen ran for a career-high 211 yards and two scores in a record-setting win against North Carolina, the best rushing day by an ECU player since eventual NFL star Chris Johnson ran for 223 against Boise State in the 2007 Hawaii Bowl.
That put him in line for possibly a bigger workload Saturday when the Pirates (3-1) return from a bye week against the Mustangs (0-4).
"Breon's a great guy and a student of the game," quarterback Shane Carden said. "He really cares about what's going on, and he puts his heart and soul in it. I feel comfortable handing him the ball and I feel comfortable with him blocking for me in the passing game."
East Carolina is coming off a 70-41 rout of North Carolina in which the Pirates finished with a program-record 789 total yards. That win returned the Pirates to the Top 25 for the first time since 2008 and capped a tough nonconference schedule that included a loss at South Carolina and a win at Virginia Tech.
The Pirates had to replace the 1,193 yards rushing lost after the departure of Vintavious Cooper, and entered this season with a rotation of Allen, junior Chris Hairston and redshirt freshman Marquez Grayson in the backfield.
Hairston started the opener against North Carolina Central, then Allen started the next two games while none of the three managed more than eight carries in those first three games. But Allen took most of the workload against UNC with 18 carries and sits atop the depth chart this week.
Overall, the Pirates lead their new league in scoring, total offense and rushing (189.5 yards). Offensive coordinator Lincoln Riley said the plan is still to keep using multiple backs against an SMU team that ranks last in the AAC in rushing, scoring and total defense.
"We're more spread out than we've been even with Breon right now being our No. 1," Riley said. "We've got three to four guys that we feel could be our featured guy. We're still trying to find ways to use those guys. I know it'll come naturally as guys get banged up through the season, but Breon's playing well. He's in synch with what we're doing up front."
___
Follow Aaron Beard on Twitter at http://www.twitter.com/aaronbeardap