AJ Allmendinger's 2015 Sprint Cup Series year in review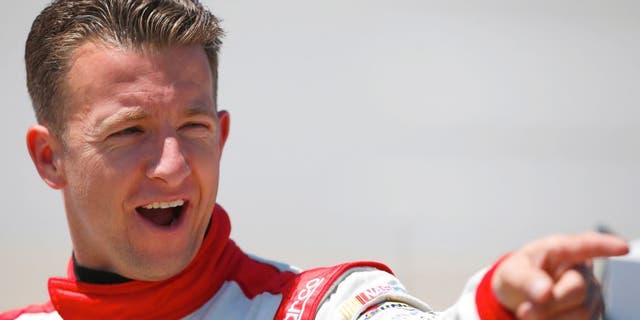 In 2014, AJ Allmendinger set a lot of firsts: He scored his first NASCAR Sprint Cup Series race victory and the first for his JTG Daugherty Racing team, which got the driver and the team into the Chase for the NASCAR Sprint Cup for the first time.
Alas, neither the driver nor team were quite as fortunate in 2015.
Allmendinger, a native of Los Gatos, California, had a decent 2015 campaign, but was unable to replicate the magic of 2014, finishing the year 22nd in the final Sprint Cup points standings.
The year started off on a high note for Allmendinger. After a 20th-place finish in the season-opening Daytona 500, he came on strong, finishing an excellent seventh at the fast 1.54-mile Atlanta Motor Speedway.
The next week was even better, as Allmendinger brought the No. 47 JTG Daugherty Chevrolet home in sixth place at Las Vegas Motor Speedway. A top-20 finish at Phoenix International Raceway followed the next week, as Allmendinger left the Arizona track fifth in points.
Unfortunately, things then got dicey. The next four races produced 34th-place finishes at Auto Club Motor Speedway and Bristol Motor Speedway, and a 43rd-place result at Martinsville Speedway. In the span of just four races, Allmendinger plummeted from fifth in points all the way down to 25th. He would not get higher than 19th the remainder of the season.
Still, there were some high points. At the second Pocono event, Allmendinger finished seventh, and he had high hopes the following week of repeating his dramatic 2014 victory on the Watkins Glen International road course.
At the Glen this time, the No. 47 was fast early, as Allmendinger qualified on the pole and led the first 20 laps as he attempted to repeat. But an electrical gremlin knocked him out of contention.
It was the same kind of frustration that Allmendinger experienced in June at the Sonoma Raceway road course, where he qualified on the pole but finished 37th after getting debris in his fuel filter.
Worse yet, Watkins Glen began a string of eight consecutive races where Allmendinger finished no better than 23rd. The good news is that things picked up a little at the end of the year, with four top-20 finishes in the final seven races, including an 11th-place run at Martinsville, where the 'Dinger led 19 laps.
Was it the year the driver and team wanted? No. But for a small, single-car squad, finishing right in the middle of the pack wasn't too bad, all things considered.