NASA releases closeup image of Pluto's moon Charon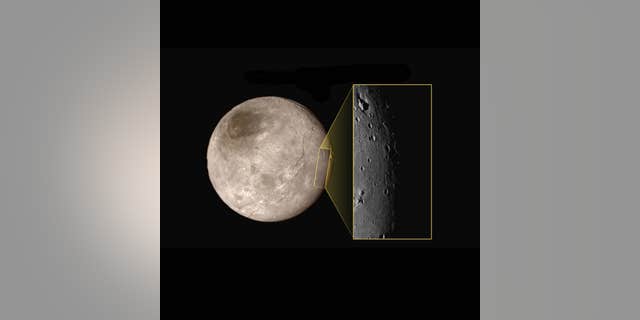 NEWYou can now listen to Fox News articles!
NASA has released a closeup image of Pluto's largest moon Charon, the latest picture from the New Horizons spacecraft's historic flyby of the dwarf planet this week.
The image reveals what NASA describes as a "captivating feature" of Charon – a depression on the moon's surface with a peak in the middle. Few craters are visible in the image, which shows an area of about 240 miles from top to bottom.
Related: NASA releases first Pluto flyby images
In its statement, NASA said that the image was taken at approximately 6:30 a.m. ET on Tuesday, when New Horizons was about 49,000 miles from Pluto's surface, an hour-and-a-half before its closest approach to the dwarf plant.
The agency described the depression as Charon's 'Mountain in a Moat' in a tweet on Thursday, noting that the image is a preview of future closeups.
NASA will hold a briefing Friday to unveil new images of Pluto and discuss new science findings from the flyby.
The agency released the first of New Horizons' eagerly-anticipated flyby images Wednesday. These included the first closeup of Pluto, which showed a range of mountains rising as high as 11,000 feet above the dwarf planet's icy surface.
A stunning Charon image was also released, clearly showing a swath of cliffs and troughs stretching about 600 miles across the moon's surface.
Related: New Horizons spacecraft makes historic Pluto flyby
Imaging obtained by New Horizons and transmitted to Earth early Wednesday morning also shed light on Pluto's outermost moon Hydra. Since its discovery in 2005, Hydra has been known only as a fuzzy dot of uncertain shape, size, and reflectivity, according to NASA, although New Horizons' Long Range Reconnaissance Imager (LORRI) reveals the moon's irregularly shaped body.
The spacecraft's flyby took it within 7,750 miles of Pluto's surface Tuesday, roughly the distance between New York and Mumbai.
Confirmation of the successful flyby came late Tuesday, when New Horizons contacted scientists back on Earth, 3 billion miles from Pluto.
Pluto has fascinated astronomers since 1930, when it was discovered by Clyde Tombaugh using the Lowell Observatory in Flagstaff, Ariz. Some of Tombaugh's ashes are aboard New Horizons.
New Horizons is the first-ever space mission to explore a world so far away from Earth, according to NASA.
The Associated Press contributed to this report.