Final answer may be near on King Tut tomb mystery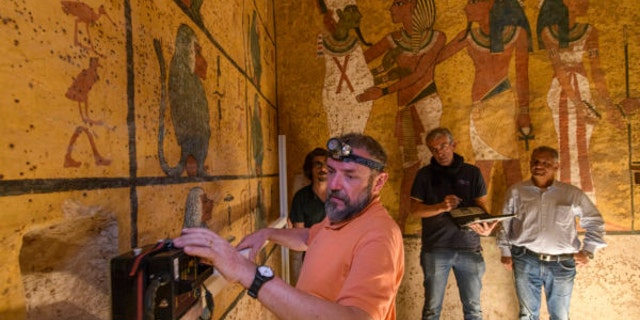 NEWYou can now listen to Fox News articles!
The theory that King Tut's tomb also holds the remains of his stepmother, the legendary Queen Nefertiti, has tantalized Egyptian archaeology for nearly three years. But after two scans with ground-penetrating radar proved inconclusive, National Geographic reports that third major scan is underway at the tomb in Luxor's Valley of the Kings, and it has exclusive photos of the operation.
The scan will search the walls of Tut's tomb for signs of a hidden chamber and is expected to take about a week, reports CBS News.
Several weeks of analysis will then follow. Egyptologist Nicholas Reeves believed he saw telltale signs—traces of sealed entrances in the north and west walls of Tut's tomb—in a 2015 scan.
It's also been determined that the north wall was initially painted a different color than the others, while paintings on the wall also follow a different pattern than those on the others.
This might suggest the wall—where infrared thermography found temperature variations—was built some time before the others. But though experts said a 2015 scan indicated chambers present behind the north and west walls, a second scan in 2016 found nothing.
The third scan, being led by the Polytechnic University of Turin, aims to settle whether any voids in the rock exist. If so, archaeologists would then begin the next phase of seeing what's inside them.
(Tut's dagger is out of this world, literally.)
This article originally appeared on Newser: Researchers May Finally Settle King Tut Tomb Mystery