Trump looking to unload Caribbean beach estate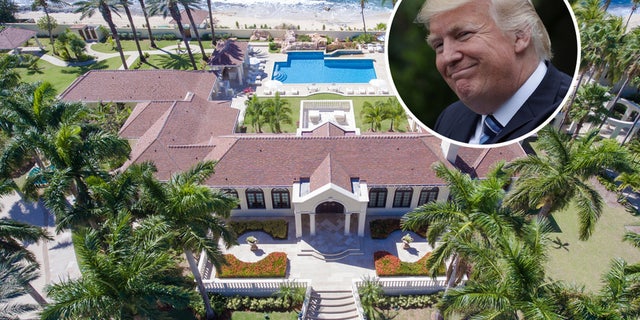 President Donald Trump is looking for a millionaire to buy his luxurious French St. Martin beachfront estate, which he has used primarily as a rental property since purchasing it in 2013.
Le Château des Palmiers, a walled compound on the northwestern tip of the Caribbean island on the Rue de la Falaise, recently hit the market with Sotheby's Realty International. Sotheby's lists the price as "upon request," but another listings aggregator in St. Martin, 7th Heaven Properties, says the asking price is $28 million.
Mr. Trump has marketed the tropical refuge and claimed the asset in financial disclosures filed in July 2015 before his presidential bid.
"Greetings from Donald J. Trump. Escape to a place no other," reads a brochure for the property.
The sprawling 4.8-acre estate on St. Martin's Plum Bay encompasses two villas, one five-bedroom and another four-bedroom and a number of other red-tile-roofed structures, from pool cabanas to a house for the estate manager, according to the listing with Lesley Reed, who could not immediately be reached for comment.
In total, the compound contains 11 bedrooms and 12 full bathrooms. The larger villa has a two-story master bedroom with a Jacuzzi bath tub and two private balconies. The smaller villa has a number of themed bedrooms, including the "Jungle Room" with a king-size bed.
The whole property is enclosed by an eight-foot boundary wall, according to the listing.
Rental packages for the president's tropical refuge start at $6,000 per night in the low season for the smaller of two villas and top off at $28,000 during the winter holidays, according to Sotheby's St. Martin office.
Disclosures sent to the federal Office of Government Ethics indicate that Mr. Trump owns the St. Martin property under two limited liability companies, Excel Venture I LLC and Excel Venture Corp II, for which he owns a 100 percent share.
He's collected between $100,000 and $1 million annually through rental income, according to the 2015 disclosure, which values the asset between $5 million and $25 million.
Mr. Trump has owned the rental since 2013, when he bought Le Château des Palmiers for an undisclosed amount. It was reportedly listed at the time for $19.7 million, meaning the U.S. president is looking to turn a 40 percent profit on the sale after only four years of ownership.
The White House press office and a publicist for the Trump Organization did not immediately return requests for comment.