Will Mitt Romney's Embrace of Puerto Rican Statehood Play in Florida?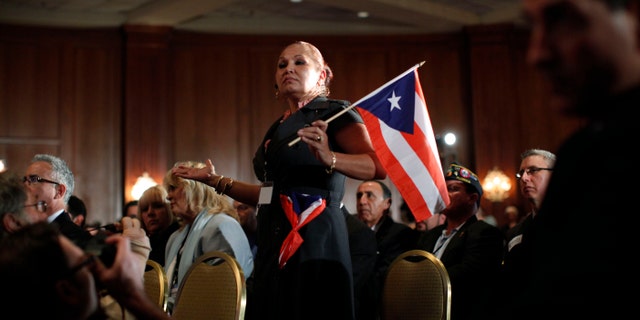 At the end of a long weekend of campaigning in South Florida, where the Cuban American vote has been largely emphasized, Mitt Romneys' strong embrace of Puerto Rican statehood and an endorsement from Governor Luis Fortuño, may signal a shift of momentum in favor of Romney among Latino Republicans in the Sunshine state.
The Puerto Rican governor announced his support for Romney late Friday --citing his "leadership and experience"-- just days before the Florida primary where the Latino vote will be a key factor.
Romney responded to the well-timed endorsement in a statement, saying: "I look forward to working with Governor Fortuño on the issues most pressing for the people of Puerto Rico — job creation, public safety and resolving the Island's 113-year political status question."
Insulted Puerto Ricans Slam CNN Debate, Republican Candidates
But in what may be a more telling sign of things to come for Romney, the former Massachusetts governor seems to have been able to win over Puerto Rican statehood activists who stormed out of a CNN and Hispanic Leadership Network sponsored watch party on Thursday night, over what they deemed as an "insulting" handling of a question over Puerto Rican statehood.
In November, Puerto Rico will vote on whether or not to change it's status with the United States. At 4.4 million, Puerto Ricans represent the second largest voting block of Hispanics in the United States, according to the Pew Hispanic Center. There are more than 830,000 Puerto Ricans living in Florida, with more than half living along the I-4 corridor in the central part of the state. Puerto Ricans make up 28 percent of eligible Latino voters in Florida – just behind Cubans who make up just under one third at 32 percent.
During the Thursday night's televised debate, Rick Santorum was the only candidate given time to answer a question on their position on Puerto Rican statehood. His answer was non-committal.
"I am a Romney supporter now," Elizabeth Cuevas-Neunder, Republican president and CEO of the Puerto Rican Chamber of Florida, tells Fox News Latino. "My favorite candidate of them all was Santorum but he lost me when he answered the Puerto Rican statehood question in the CNN debate."
Outraged that CNN then changed the topic, Cuevas-Neunder lead efforts to press Romney and Gingrich to take a stand on Puerto Rican statehood at the Hispanic Leadership Network conference in Miami.
Where Mitt Romney Stands on Latino Issues
"The question is very simple: Do you believe Puerto Rico should be a state or not?," she separately asked both hopefuls.
Romney's response seemed to strongly embrace Puerto Rico's statehood initiative.
"I'm looking forward to the time when the people of Puerto Rico make their decision about becoming a state," Romney said in Miami. "I expect the people of Puerto Rico will decide, like [Fortuño] feels, that they want to become a state, and I can tell you that I will work with him to make sure that if that vote comes out in favor of statehood, that we will go through the process in Washington to provide statehood to Puerto Rico and, again, to create a model in the Caribbean — one more model in Latin American of the benefits of having freedom."
Gingrich also answered Cuevas-Neunder's question on Puerto Rico statehood in Miami at the same event, emphasizing that he would follow the people of Puerto Rico's cue:
"I believe the people of Puerto Rico have got to decide their future," Gingrich said to a roar of applause at the HLN conference in Miami. "If they vote yes, then I will work actively in the process of succession into the United States. I would welcome them if they make a decision but I will not tell them the one decision they should make."
Where Newt Gingrich Stands on Latino Issues
It was Romney's answer, with it's more affirmative commitment to statehood, that thrilled Cuevas-Neunder and, according to her, "blew everyone away."
Colonel Derek Freytes, a U.S. veteran, was also once on the fence before he heard Romney's response to the statehood question in Miami – a question he believes should have been answered by all of the candidates on national television.
"I'm supporting Romney now," said Freytes, a U.S. veteran.
"In Puerto Rico, we are talking about American veterans that have fought and defended this country and can't vote, I think Romney really understands and is looking at advancing our democracy - he's moving in the right direction."
Follow us on twitter.com/foxnewslatino
Like us at facebook.com/foxnewslatino