United drops DC-Dubai route, accuses US government of subsidizing Gulf rival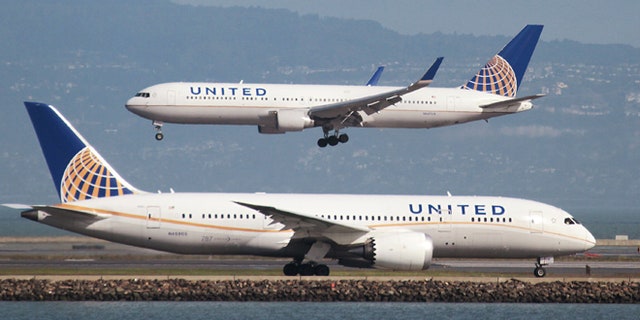 NEWYou can now listen to Fox News articles!
United Airlines is claiming the U.S. government has favored a foreign airline over a U.S.-based company in its award of a lucrative government contract – a move that United says has forced it to scrap a key diplomatic flight, and that may put American jobs at risk.
The company announced Wednesday that it is ending its carrier flight from Washington, D.C., to Dubai in January 2016, citing its inability to compete with "the entry of subsidized carriers such as Emirates Airline and Etihad Airways."
"As they've added subsidized capacity, our Washington-Dubai route has become less profitable," the company said in a blog post.
United says the move comes after the General Services Administration (GSA) awarded a government contract to subsidize flights for approximately 15,000 government employees, including military personnel, to rival JetBlue.
The GSA awarded the contract for 2016 to JetBlue in August. However, United says JetBlue has no presence in the region, and so its codeshare partner – Dubai-based Emirates Airlines – will work the route.
"It is unfortunate that the GSA awarded this route to an airline that has no service to the Middle East and will rely entirely on a subsidized foreign carrier to transport U.S. government employees, military personnel and contractors," United Airlines' Regulatory and Policy VP Steve Morrissey said.
United Airlines lodged a formal protest, claiming that the award was in violation of the Fly America Act -- legislation that all air travel funded by the federal government must use a U.S. carrier service.
"For the Washington to Dubai route, JetBlue merely serves as a booking agent for Emirates," Morrisey said.
JetBlue did not respond to a request for comment from FoxNews.com.
United's protest was in turn denied by the Government Accountability Office. The specifics of the case are currently covered by a protective order.
"The U.S. General Services Administration's Fiscal Year 2016 City Pair Program leverages the purchasing power of the federal government to drive down the price of airfare for federal employees, estimated to save the American taxpayer approximately $2.35 billion," a GSA spokesperson told FoxNews.com.
"Under GSA's City Pair Program, airfare rates offer a 52 percent discount on comparable commercial fares. All contracts and awardees are in compliance with the Fly America Act," the spokesperson said.
"This is just the latest example of the economic harm caused by unchecked, massive government subsidies to the Gulf airlines."
The Partnership for Open & Fair Skies -- a coalition of U.S. airlines and airline worker groups pushing for "a level playing field" with Qatar and the United Arab Emirates -- said in a statement that the move is an example of harmful consequences from massive government subsidies.
"This is just the latest example of the economic harm caused by unchecked, massive government subsidies to the Gulf airlines. United's decision is further proof that the billions of dollars in Gulf carrier subsidies have distorted the playing field and made true competition impossible for U.S. carriers," spokeswoman Jill Zuckman said in a statement.
"When this happens, the men and women of the U.S. aviation industry are the ones who are hurt," she said.
When asked about the effect on American jobs at the company, a United spokesman told FoxNews.com that "we're still evaluating how the decision will impact United employees."
"We'll work with those affected to determine what their options are," spokesman Rahsaan Johnson said.