RNC Chair Deflects Specifics on Entitlement Spending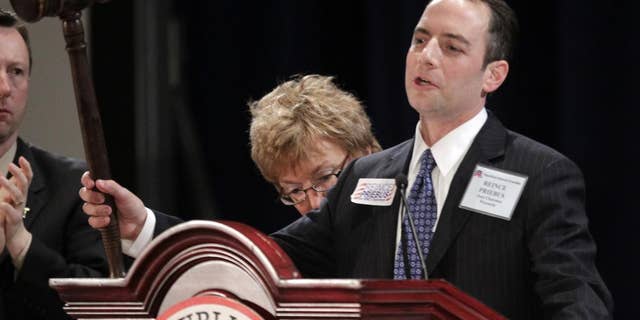 NEWYou can now listen to Fox News articles!
Barely a month into his new job, Republican National Committee chairman Reince Priebus deferred questions to party leadership Thursday about specific ways his party can tackle entitlement spending, but said he supports the GOP leadership as Congress struggles to agree on a budget for the coming fiscal year.
I'm not going to get into the weeds on what the cuts are going to be or what the entitlement issues are going to be," Priebus said on "Fox & Friends" when he was asked how Republicans would potentially cut expensive programs like Social Security and Medicare.
President Obama unveiled his own budget proposal earlier this week, which was criticized by both sides of the aisle for failing to effectively address entitlements. House Republicans have proposed a series of budget cuts this week, but they too mainly focus on discretionary spending, in everything from healthcare to arts funding. Former Senators Erskine Bowles and Alan Simpson, co-chairs of the Obama-appointed debt commission, wrote this morning that both parties have yet to propose serious reforms to entitlement spending.
Priebus said he thought House Republicans were on the right track with their budget proposals.
"I support what Paul Ryan and Speaker Boehner are doing. We have to cut spending, we have to get our deficits under control, and I think they're doing that," he said. "Promising $100 billion in cuts over the next seven months is the right approach. Debating how much we are going to cut is the right approach."
But Priebus said he would defer to party leaders on the specifics.
"I'm not going to go in the weeds on the details of those policy decisions," he reiterated. "I'll leave that up to the speaker and Paul Ryan."
Preibus did criticize Obama's budget proposal, noting that it comes on the two-year anniversary of the infamous stimulus package - a reminder, Preibus said, that the administration has mishandled the economy.
"This is something that hasn't worked in our country. The American people spoke in November and told us it didn't work," he said of the stimulus package. "What did the president do? He proposed another budget that increases taxes by $1.6 trillion."
The RNC is facing its own share of budget woes - last week, the organization announced it was $23 million in debt, which may hinder its ability to fund the 2012 presidential campaign. Priebus said he's optimistic the RNC will overcome its budget challenges and said he's already brought financial heavy-hitters on staff that have "put the finances of the RNC on their shoulders."
"I don't think I value anything more than hard work," he said of the looming tasks ahead, "and I am working as hard as I possibly can."