Early Peek At 2016: Poll Shows GOP Sens. Ted Cruz And Marco Rubio Have A Long Way To Go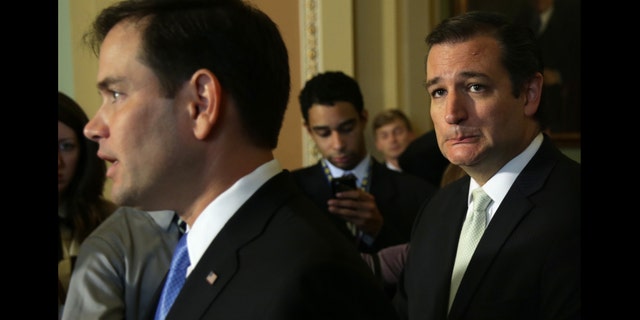 Senators Marco Rubio and Ted Cruz have their work cut out for them if they plan to run for president in 2016, according to a new poll of adults in Iowa, a critical election state.
The poll, which surveyed the views that Iowans who are Democrat or Republican have of possible 2016 presidential candidates, showed that Wisconsin's Paul Ryan, who was Mitt Romney's running mate in the 2012 presidential elections, is the favorite among Republicans. Ryan had a 73 percent favorability rating, according to the Des Moines Register Iowa Poll.
But Rubio, of Florida, and Cruz, of Texas, did rather poorly among potential voters.
They were among the three lowest-ranking candidates among Republicans – the other was Wisconsin Gov. Scott Walker – tying 46 percent for favorability. The newspaper suggested that many respondents don't know much about these candidates.
Cruz, the newspaper noted, had the highest negative opinions among GOP voters.
The candidate scoring the highest favorable opinion rating was former Secretary of State Hillary Clinton, who enjoys an 89 percent thumbs up from Iowa Democrats.
"Clinton's score is eye-popping and shows she is viewed more favorably than any Democrat or Republican by a big margin," said Jeff Link, an Iowa Democratic operative, according to the newspaper.
Clinton would have a tough battle on her hands, however, in trying to woo Republicans, the poll showed. Just under 60 percent of them said they have a "very unfavorable" view of the former First Lady.
"That's a monster number," pollster J. Ann Selzer said, according to the Register. "Were she to be nominated, there would be a resurgence of this 'We hate Hillary' faction that has been dormant."
Vice President Joe Biden did well among Democrats, getting a 71 percent favorability rating among Iowa Democrats. But about 70 percent did not recognize the name Brian Schweitzer (a former Montana governor) or Martin O'Malley (Maryland's governor).
The poll consisted of 650 Iowa adults ages 18 and older.
Follow us on twitter.com/foxnewslatino
Like us at facebook.com/foxnewslatino