Democrats target House seats in conservative South ahead of midterms
The partisan divide in Washington D.C. has Democrats aiming to flip seats around the deeply conservative South. The South Carolina's 5th Congressional District has been red for eight years – but it is among the 94 districts on their battlefield target list.
"We can expect to see every controversial Trump utterance, such as this week's declaration that he'd like to see a government shutdown, and every reversal tied to incumbents' voting records," University of South Carolina Professor Charles Bierbauer told Fox News.
A memo published by the Democratic Congressional Campaign Committee, D.C.C.C, said it has successfully built the largest battlefield in over a decade, with strong campaigns ready to win tough races across the map in 2018.
Committee members are adding the very conservative 5th District congressional seat to their list of "battlefield" targets they believe could turn blue as a result of a growing dissatisfaction with Trump, they said.
"I mean a lot of the people that we are talking with, we stand with those people that are distraught about the chaos that's going on in Washington," said Archie Parnell, the Democrat running against Republican Ralph Norman in the tight 5th district race.
A recent Fox News poll shows 53 percent of Americans disapprove of Trump. But in South Carolina, the percentages are only 2 digits apart, with 46 percent who disapprove of him and 48 percent who approve.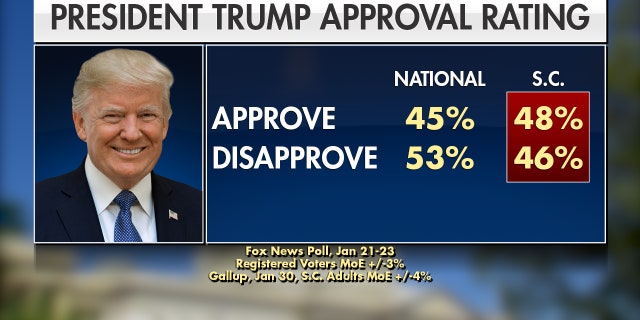 And while Trump will not be on the ticket, he wields a big influence in the race. Although they barely attack each other, the candidates spend much of their time condemning or defending Trump – hoping his reputation will sway voters.
Republicans credit the president for a revving up the economy and bringing jobs back to America.
"President Trump has done a great job," Norman said. "We would not have had the tax cuts had it not been for President Trump on the phones working, giving the taxpayers back their money. We would not have the infrastructure bill that's coming to all of us to help this country."
But recent campaign finance records show the tide may be turning for Parnell, who has more than $230,000 in his war chest. Incumbent Rep. Norman has about $100,000.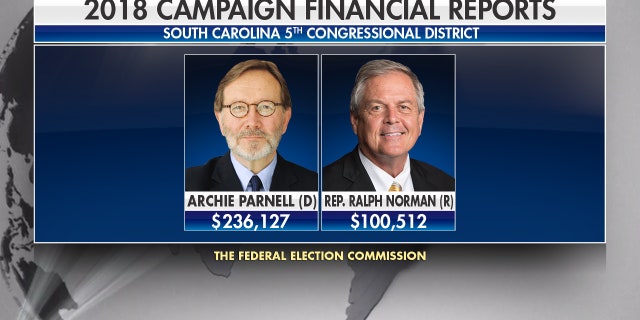 "We are really happy about the way that has turned out. We have 2,000 donations, which is very, very high," Parnell told Fox News about the fundraising in the district that has been red since 2010. "We also have six times the amount of small donors than our opponent. So that's very heartening and it shows that we have grassroots support."
Norman did not seem too concerned about Parnell's fundraising prowess. The Democrat has raised $130,000 more than his opponent in campaign contributions since the beginning of the year.
"I fully expect him to outraise me because again they want to get back in power. He came within 3,000 votes and he'll have all the money he needs," Norman said. "I will start working on the funding of the campaign. We'll have enough money to be competitive."
The GOP congressman says he fully supports Trump's agenda, unlike his opponent.
"Yes, I will be gladly touting his accomplishments," Norman said. "We would not have the infrastructure bill that's coming to all of us to help this country. The infrastructure has been neglected for so long. I defend the president, he's done a great job."
But Parnell argues the voters want job security, healthcare and a secure future.
"People liked Donald Trump because they wanted change," Parnell said. "They did not want politicians in office. So, I'm not a politician. I stand…with those people that would like to see an end to the chaos."
Parnell lost to Norman during last year's congressional special election by less than 3 percentage points. But Democrats believe the rematch between the two candidates will lead to another victory for the party, like the recent major upset caused by Doug Jones win in Alabama's Special Senate election.
Experts said there is no comparison.
"You can't look at a congressional district election like South Carolina's 5th in the same way that you can look at the Alabama senate race, which was statewide, a Senate race and had a flawed candidate," Bierbauer said. "We don't have that situation."
Overall, Democrats hope to build a momentum in races across the U.S. and are also aiming to challenge the 68 districts Trump won during the 2016 presidential race.