Democrats Blast Romney on Immigration and Self Deportation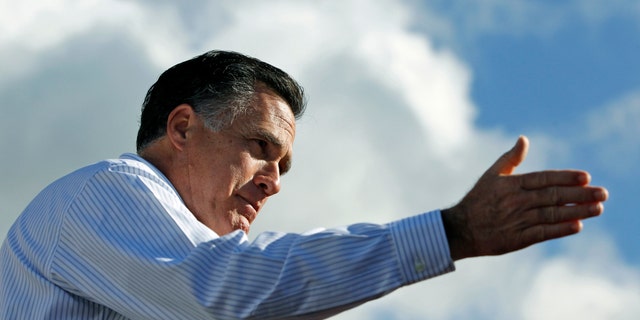 The Democratic National Committee blasted Republican presidential candidate Mitt Romney Thursday for his flip-flopping position on the DREAM ACT, his idea of undocumented immigrants self-deporting and his "anti-immigration" rhetoric.
Speaking during a conference with journalists, Florida State Rep. Darren Soto and Miami-based Democratic political consultant Freddy Balsera lashed out at Romney's policies toward immigration and his so-called pandering to the far right, the Miami Herald reported.
"I wish Mitt Romney the best in trying to win over Hispanics as he has been anti-Hispanic out of the state and then comes in here and says he believes in us,'' Soto said, according to the Herald. "He has been a flip-flopper since the beginning and he is going to say anything he can, and everything he can."
Balsera added that Romney has recently pushed to gain support among Latino voters now that the GOP presidential race is focused on Florida. According to 2010 Census data, Florida's Hispanic population is 22.5 percent.
The Democratic consultant also called out Romney's choice of Miami's Freedom Tower as a location for a speech on Wednesday. The building was previously used to house Cuban refugees and is considered by Balsera as "the incubator" of the DREAM Act.
Romney originally opposed any DREAM Act legislation and said he would veto it if elected president, but switched positions last week and said he would support a path to legalization for undocumented immigrants who join the military.
"If Romney becomes the Republican nominee, his position would be the most extreme of any presidential nominee of our time," Balsera said, according to the Herald. "He continues to bank to the far right and pander to the Tea Party, saying and standing for anything he thinks will get him elected."
The Democratic leaders did not mention any of the other GOP candidates in the race, until questioned about Romney's main rival, Newt Gingrich, by reporters. Soto said that the former Speaker of the House has not been as "inconsistent" or as "radical" as Romney and has not opened himself for attacks.
"Depending on the audience," Balsera said, referring to Romney. "He's speaking to change his message."
Celebrities Who Once Were Undocumented
Despite the attacks on his record and stance on Latinos issues, two recent polls indicate that Romney remains a bigger threat to U.S. President Barack Obama's reelection hopes than Gingrich and that Romney is favored among Latino voters in Florida.
The poll released by Quinnipiac University shows Romney running even with Obama at 45-45 percent in Florida, while the president holds a strong 50-39 percent lead over Gingrich.
Among Hispanic voters planning to head to the polls in next Tuesday's Florida GOP primary, Romney holds a 15 point advantage over Newt Gingrich (35 - 20), with Ron Paul and Rick Santorum polling at 6 percent and 7 percent respectively and 21 percent still undecided, according to a Univision, ABC News and Latino Decisions survey.
Romney also got a boost from Florida Senator Marco Rubio, who condemned Gingrich for airing an ad in the Sunshine state calling Romney "anti-immigrant." The Cuban-American senator's name has been thrown around as a possible vice-presidential candidate and is popular among Latino voters in his home state.
"This kind of language is more than just unfortunate," Rubio was quoted as saying in The Miami Herald. "It's inaccurate, inflammatory, and doesn't belong in this campaign."
Follow Andrew O'Reilly on Twitter: @aoreilly84
Follow us on twitter.com/foxnewslatino
Like us at facebook.com/foxnewslatino