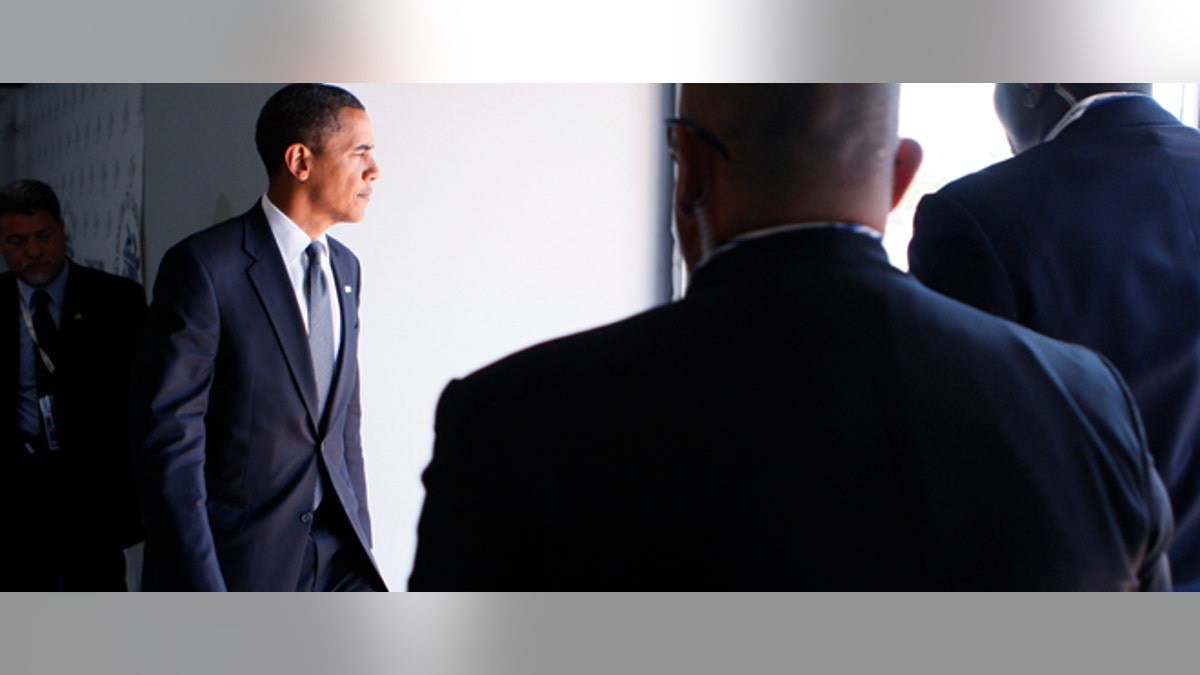 There appears to be a decidedly political spin in the choices that President Obama, his wife and members of his administration have made in selecting from many invitations where to deliver commencement speeches this year.
Most will be speaking, or have already spoken at, educational institutions in so-called "battleground states." These are states where the 2012 presidential election is tight and some 102 electoral votes are up for grabs.
Others are speaking at institutions that help reach key Obama-voter groups such as women, African-Americans, Hispanics and environmentalists.
Florida, Ohio, Michigan, Missouri, Iowa, Virginia, Arizona and North Carolina are among the battleground states where Obama officials have targeted their words of wisdom and advice to the classes of 2012.
Obama will speak Monday, May 21 at Joplin High School in Missouri, an important swing state with 10 electoral votes. Joplin was devastated a year ago by a tornado that killed 160 persons.
Earlier this month, the president delivered the commencement address at Barnard College, a prestigious all-female institution in New York City. While New York is not a battleground state – it is a Democratic lock – the female vote is highly prized by Obama. And he made it clear at Barnard that this was as much a political speech as it was a commencement speech.
"You are now poised to make this the century when women shape not only their own destiny, but the destiny of the whole nation," he told the cheering graduates. "It's up to you to stand up and be heard, to write, to lobby, to march, to organize, to vote."
The president was so eager to speak to the women of Barnard that he bumped the school's originally chosen speaker, Jill Abramson, executive editor of The New York Times. That move angered -- and set off a wave of verbal protests by male students-- at his alma mater, Columbia University, which had been seeking to have Obama speak there. Barnard is a sister college of Columbia.
Obama enjoys an election lead among women in most polls, but he trails Republican Mitt Romney among men.
On Wednesday, the president will deliver the commencement address at the Air Force Academy in Colorado Springs, Colo. And while it is traditional for the commander in chief to deliver the speech at one service academy each year, Obama just happens to be speaking this year at the one in a battleground state, Colorado with nine electoral votes.
Vice President Biden will speak at West Point, in non-battleground New York and Defense Secretary Leon Panetta will address the midshipmen at the Naval Academy in non-battleground Maryland. Homeland Security Secretary Jane Napolitiano spoke last week at the Coast Guard Academy in non-battleground Connecticut.
First Lady Michelle Obama also is heavily immersed in the targeted-commencement-speech game.
She spoke earlier this month at Virginia Tech in battleground state Virginia with 13 electoral votes.
She also spoke last week at North Carolina Agricultural & Technical State University, where she got a twofer- battleground state with 15 electoral votes and an historically black college.
The one non-battleground speech the first lady will make is at Oregon State University. Oregon, like New York, is a Democratic lock. But it gets special attention because Michelle Obama's brother, Craig Robinson, is the men's basketball coach.
Vice President Biden and wife Jill, a community college professor, are focusing on three battlegrounds; Florida, 29 electoral votes, Virginia, 13 and Iowa, 6. The vice president will speak at high schools in Weston, Fla. and Virginia Beach, Va. His wife spoke earlier this month at Broward College, a heavily Hispanic community college in the Miami area and at Southwestern Community College in Iowa.
Cabinet officers are also into the battleground-state game. Attorney General Eric Holder spoke at the University of Michigan Law School. Also in Michigan, Secretary of Veterans Affairs Eric Shinseki spoke at Lansing Community College. United Nations Ambassador Susan Rice will speak at Ohio State. Michigan and Ohio have 34 electoral votes between them.
Labor Secretary Hilda Solis spoke at Estrella Mountain Community College in Arizona - a state with 11 electoral votes and one where immigration is expected to be a pivotal issue. Estrella serves a large Hispanic student population.
Homeland Security Secretary Janet Napolitano was the speaker at Southern University at New Orleans, an historically black college.
Energy Secretary Steven Chu spoke at California's Pomona College. California is safely in the Obama column, but Chu's speech was meant to energize environmental voters worried about the effects of climate change, a key Obama re-election issue.
"I believe that the energy and climate challenge is one of the most pressing problems that the world has to solve," Chu told Pomona graduates.
Other administration officials speaking in crucial battleground states:
- Maurice Jones, deputy secretary of Housing and Urban Development, delivered the keynote address at Virginia Wesleyan College.
- Francisco Sánchez, undersecretary of Commerce for International Trade, spoke at Florida State University in Tallahassee.
Four high Obama administration officials drew duty at Washington, D.C. colleges. While DC is an electoral slam-dunk for Obama, neighboring Northern Virginia is battleground territory and part of the DC-area media market.
- Treasury Secretary Tim Geithner speaks Thursday on May 24 to graduates of the John Hopkins University's School of Strategic and International Studies.
- Health and Human Services Secretary Kathleen Sebelius was a controversial pick for Georgetown University, where a battle broke out over her department's regulation that would require Catholic colleges and hospitals to offer employees health insurance that includes co-pay free contraceptive coverage. Georgetown is a Catholic institution.
- Education Secretary Arne Duncan was the speaker at Howard University, an historically black college.
- White House aide Valerie Jarrett spoke Sunday at American University's Washington College of Law.
Two Cabinet secretaries, Tom Vilsack of Agriculture and Ken Salazar of Interior, pulled duty in states where Obama has no problem: Vilsack at Albany State University in New York and Salazar at the University of Massachusetts.
But one Cabinet member wasn't chosen to speak in any state at all, battleground or otherwise. Transportation Secretary Ray LaHood will give the commencement address later this month some 8,000 miles away at the University of Guam. Guam, a U.S. territory, has no electoral votes. And, by the way, LaHood is a Republican.