Woman battling stage 4 cancer raising awareness of 'silent' disease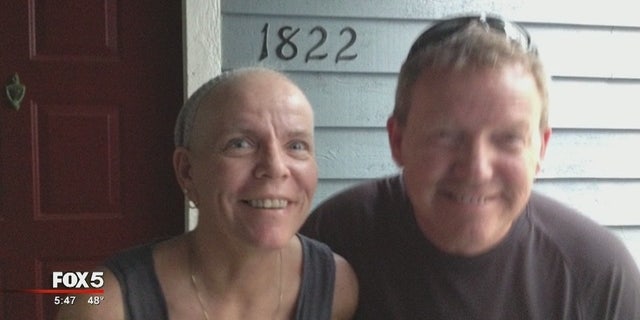 A 54-year-old woman who attended routine check-ups is urging more awareness of ovarian cancer after she was diagnosed with stage 4 of the disease— five months after doctors said her pelvic exam results were normal.
Sheryl Newman-Overton, of Tampa, Florida, said she was unaware of any symptoms of the disease, and her gynecologist didn't raise alarm over her bloated and swollen stomach.
"I didn't recognize the symptoms," Newman-Overton, a mother of 6 and grandmother of 18, told Fox 5 Atlanta. "I didn't push it."
Newman-Overton was diagnosed with the disease in January 2016 and has been under the care of Dr. Kelly Manahan, a gynecologic oncologist at the Cancer Treatment Centers of America in Newnan, Georgia, the news outlet reported. Manahan said Newman-Overton's case is typical of ovarian cancer patients.
"Ovarian cancer causes a lot of symptoms where people think, 'Well, I'm just getting older, my bowel function is getting slower. It's just one of those things. I'm gaining weight,'" Manahan told Fox 5 Atlanta.
Manahan said other symptoms that shouldn't go unchecked in perimenopausal women include abdominal pain, urinary frequency, reflux and heartburn.
"Why is no one telling this?" Newman-Overton told Fox 5 Atlanta. "So we have a fighting chance? If they caught this at stage 1, my chances of survival go up."
According to the American Cancer Society, the 5-year relative survival rate for all types of ovarian cancer is 45 percent. If ovarian cancer is found before the cancer has spread outside the ovary (stages IA and IB), the 5-year relative survival rate is 92 percent. However, according to the stats, only 15 percent of all ovarian cancers are found at this early stage.
Newman-Overton is now focused on spending time with her family while trying to ensure other women are more aware of ovarian cancer.
"I want to make other women aware," Newman-Overton told Fox 5 Atlanta. "And if this miserable, hateful disease is going to kill me, then let me at least empower other women to know these symptoms, so that it might save their life."