New Connecticut Sick Pay Bill May Benefit Latinos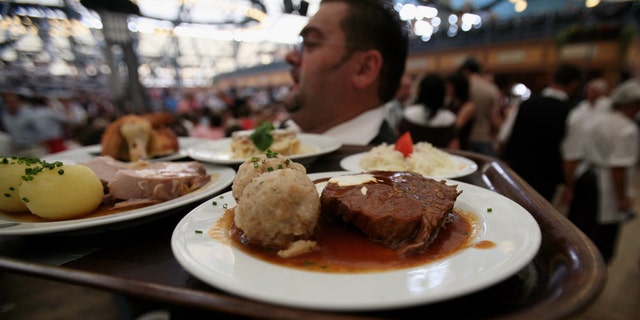 Connecticut lawmakers passed a bill earlier this month to guarantee paid sick days for hundreds of thousands of service workers, many of whom are Latinos, becoming the first state in the nation to pass such a measure.
Supporters called the Connecticut bill a "historic victory" for worker's rights and public safety.
"The bill targets a broad range of workers in the service sector from food preparation and food service workers, to day care workers, bus drivers and retail folks," said Vicki Shabo, director of the work and family program for the National Partnership for Women & Families, a nonprofit located in Washington D.C.
Source: Institute for Women's Policy Research
Shabo said many of these workers have close contact with the public and thus have a greater chance of spreading disease if they are forced to work while ill.
"Everyone should care about this," she said, "because we're all being put at risk."
But Andy Markowski, a lobbyist for the National Federation of Independent Business, expressed skepticism that the law would deter restaurant workers from coming to work because he said many make the bulk of their income from tips, which they would lose out on if they took a sick day.
"So there's really no incentive for a sick worker to stay home," he said.
Markowski also said the law would deter new businesses from opening up in Connecticut and be costly to small business owners, many of who already offer their workers paid time off.
"The few small businesses who don't offer paid time off," he said, "simply can't afford it."
Latinos are the fastest growing segment of the U.S. workforce, but 58 percent of Latinos, about 12 million workers, don't have paid sick days, according to a 2010 report by the Institute for Women's Policy Research.
In addition to Connecticut, two cities, San Franciso and Washington D.C., also have mandatory paid sick days for service workers and three other cities — Denver, New York and Seattle — are considering adapting such measures. The Philadelphia City Council recently approved the measure, though on Tuesday the mayor vetoed it.
In addition, lawmakers in Massachusetts have held hearings on a similar bill and at the federal level, Sen. Tom Harkin, D-Iowa, and Rep. Rosa DeLauro, D-CT, recently re-introduced the Healthy Families Act, which would mandate paid sick days nationwide.
Katherine Jimenez was one of the lucky ones. She worked as hostess for a Washington D.C. restaurant after that city's law was passed.
"It was a great thing," she said. "It made a big difference. I didn't have to think twice about taking the day off when I was sick for fear of losing money that I needed to pay the bills."
But Jimenez, who now works for the worker's rights organization, Restaurant Opportunities Center United, said the Washington D.C. law does not cover restaurants workers who are paid in tips — wait staff, bartenders, bus boys — because District of Columbia council members added last-minute amendments to the law to exempt them.
She recalled a local man she knows who works as bartender who unknowingly contracted swine flu during the winter of 2009 and kept working because he could not afford to take a day off. The man eventually ended up in the hospital.
"That's why it's so important to have this coverage," she said. "At the end of the day, it's a public health issue."
Nancy Averett is a freelancer for Fox News Latino.
Follow us on twitter.com/foxnewslatino
Like us at facebook.com/foxnewslatino