'Real Housewives of Beverly Hills' Sneak Peak: Obama, Paris Hilton, and Kelsey Grammer All Dissed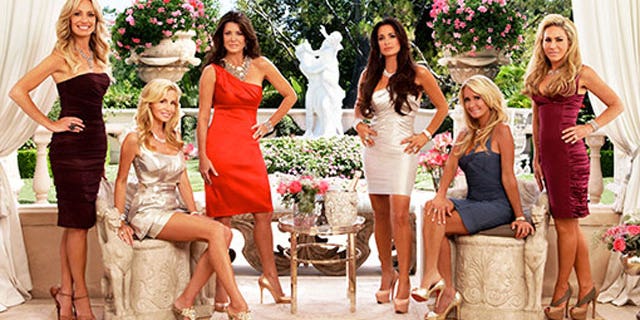 NEWYou can now listen to Fox News articles!
Building on America's fascination with the "Real Housewives" franchise, Bravo is bringing some serious 90210 money and mayhem with its latest installment – "The Real Housewives of Beverly Hills." Pop Tarts scored a sneak peak at the season opener, and it's every inch the gag-fest of lavish lifestyle meets too much surgery, equaling terrific, train-wreck television.
The official cast includes Adrienne Maloof, Camille Grammer, Lisa Vanderpump, Taylor Armstrong, and Paris Hilton's aunties Kim and Kyle Richards. Back in the day, the now 46-year-old Kim Richards was the dame of "Disney" and a prominent child actress who stepped away from the limelight and is now raising a family of four as a single mom – and she wasn't afraid to put niece Paris in her place.
"Paris and I went out for dinner and as we were leaving (the paparazzi) kept calling 'Paris! Kim! Kim!' and she kept looking at me like 'who are you?'" Kim said, adding that the paps had to remind the young hotel heiress that her aunt "was here first" and that she was an "icon."
Apparently Miss Paris wasn't too pleased – and spat back that she was "an icon too."
And Paris aside, no reality show would be complete without a little politics thrown into the mix. Adrienne Maloof, co-owner of the numerous Maloof family business holdings including Palms Casino & Resort in Las Vegas, NBA's Sacramento Kings and Maloof Productions and Maloof Music, can be seen carting around a framed picture of President Obama from an event in which she got to meet him in person – and is quick to call out her husband, Beverly Hills plastic surgeon Dr. Paul Nassif for failing to join her.
"He's the first African American President, it's history our children will be reading about that and he doesn't even go," Maloof said, while Nassif rolls his eyes that his wife is a democrat and he's a republican, hence he had no interest in attending the "historical" occasion.
And perhaps it is just as well Camille Grammer recently filed for divorce from actor Kelsey Grammer, as he is sure to be pretty peeved about her airing their "private" business on national television – no pun intended.
"The cast of 'Frasier' came to me and asked me to get him to wear underwear, they were sick of him not wearing any," Camille dished.
And while each of the ladies certainly brings somethinRealg different to the table when it comes to charisma and personality, there is no doubt that this franchise epitomizes every possible "Beverly Hills" stereotype from extravagant houses and extreme plastic surgery, to feeding the purse-pooch breakfast in bed, to not-so-intelligent comments.
"Here's to hoping my boob doesn't fly out," Richards toasts, raising her expensive glass of champagne as the ladies head on a private to jet to watch Maloof's Sacramento Kings take on the L.A Lakers.
Furthermore, Camille asks the audience "not to judge her" because she has four nannies of rotating shifts to care of their two children, and raises eyebrows when she declares a surrogate gave birth to them.
"The great perk is that you get to keep that great figure," another housewife responded.
The highly-anticipated new "Housewives" installment premieres on Thursday, October 14.