Carrie Underwood reveals baby bump in new music video 'Love Wins'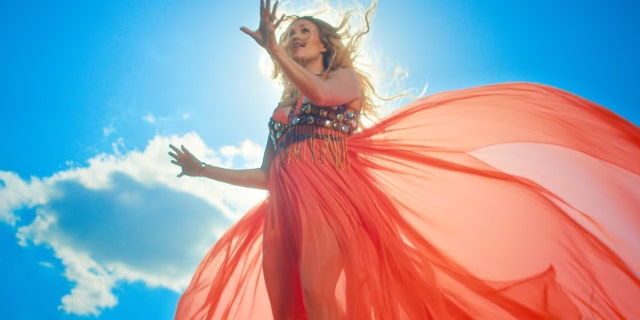 Fans are getting a glimpse of Carrie Underwood's baby bump in her new music video "Love Wins."
The new video debuted Tuesday, showing the country star singing in an open field while wearing a flowy orange dress. Viewers noticed Underwood's baby bump hidden underneath.
Underwood, 35, announced last month she was expecting her second child with husband Mike Fisher.
"Mike and Isaiah and I are absolutely over the moon and excited to be adding another little fish to our pond!" a joyous Underwood shared.
"This has just been a dream come true, with album and with baby news and all that stuff. We're just so excited, and just so glad that you guys can share in this with us."
CARRIE UNDERWOOD'S NEW 'SUNDAY NIGHT FOOTBALL' THEME 'GAME ON' SLAMMED BY FANS
The singer said she will be embarking on the "Cry Pretty Tour 360" in May 2019 as a family of four.
On Tuesday, the country singer revealed why she waited to announce her second pregnancy.
"Obviously, you kind of want to reach a point in your pregnancy where you're sure that everything is going well before you let other people in on it. Stuff like that was important. You don't want to jump the gun and then have to take it back," she told Popculture.com.
Underwood said she was planning to hold off on her announcement until she realized her bump was getting too big to hide.
"Going to the grocery store and it's 90-something degrees outside and I'm in giant hoodies. It was just time to put it out there," she added.
Underwood also opened up to Entertainment Weekly about how becoming a mom has changed her, including pushing her to take more risks.
"I mean, it does change you," Underwood said in an interview published Wednesday. "It does emotionally open doors. This is the first project [the new album 'Cry Pretty'] that I have started since I've been a mom. This time it was harder and better to write more songs and have more things that were more first person."