VW Passat concept gets 42 mpg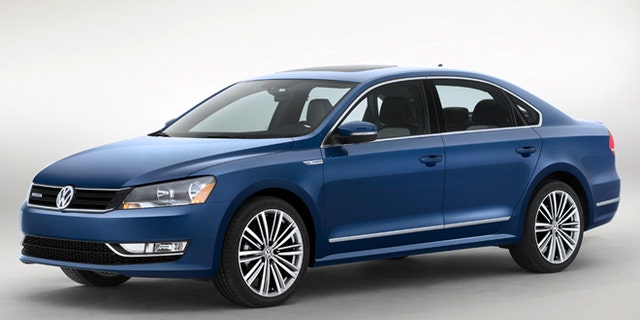 High mileage, hold the hybrid.
Volkswagen is working on a midsize family car that gets 42 mpg on the highway without resorting to battery power, or running on diesel fuel.
On Monday at the North American International Auto Show in Detroit, the German automaker plans to unveil the Passat BlueMotion concept, which combines technologies from VWs in other parts of the world to squeeze the high mileage out of a 1.4-liter, four-cylinder gasoline engine.
Automakers usually roll out concept cars at auto shows to get reactions from the press and public before deciding whether to produce the cars. VW won't say if or when it will make the BlueMotion, but spokesman Mark Gillies says the company is looking at all available technology to meet more stringent government fuel economy requirements.
The fleet of cars and trucks will have to average 54.5 mpg by 2025 under U.S. regulations. The Environmental Protection Agency said late last year that cars and trucks sold in the U.S. in 2012 averaged a record 23.6 miles per gallon (10 liters per 100 kilometers) in combined city and highway driving.
Here are the highlights of the Passat BlueMotion, which VW says would be the best in its class for a non-hybrid, gas-powered car:
INSIDE: Two-tone leather seats with blue dividing lines between dark and lighter surfaces. This is a signature of the BlueMotion family of fuel-efficient cars.
OUTSIDE: Reef blue metallic paint, which will be introduced on other VW models as well.
UNDER THE HOOD: 1.4-liter, 150 horsepower, four-cylinder turbocharged engine that can run on two cylinders when the driver calls for light throttle pressure at sustained speeds. VW says it's the world's first inline four-cylinder engine with cylinder deactivation. The technology already is in use in Europe. BlueMotion also has stop-start technology that halts the engine at stop lights and automatically restarts it when the driver wants to go. Also, the transmission disengages the engine when coasting so the car rolls with the least mechanical drag.
GAS MILEAGE: 42 mpg highway mileage, as tested by the company. Current four-cylinder Passats get in the mid-30s on the highway. No other mileage figures were released for the BlueMotion.
CHEERS: Passat has a big trunk and can haul up to five people with great gas mileage. Could boost Passat sales, which fell 6 percent last year.
JEERS: Technology costs money. That's likely to drive up the price, which was not released.
The Associated Press contributed to this report