NASCAR driver Clint Bowyer hits the wall...on a motorcycle!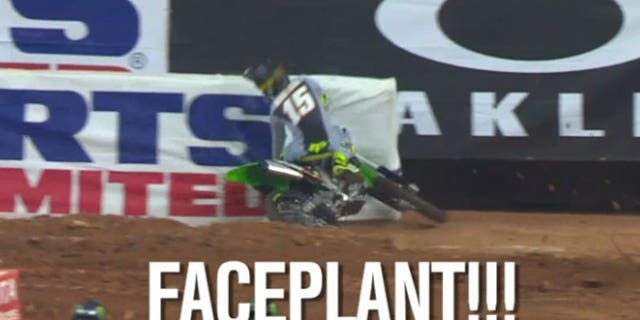 NASCAR star Clint Bowyer had a date with the wall on Saturday night in Atlanta, and he wasn't wearing a seatbelt.
The #15 car driver was taking part in the NASCAR Holeshot Challenge at the Monster Energy Supercross event in the Georgia Dome.
Bowyer faced off against fellow racers Greg Biffle, Clint Bowyer, Ty Dillon and Ricky Stenhouse in a charity drag race down the main straight.
Biffle was quickest out of the gate, but the 36-year-old Bowyer, who raced motocross when he was a kid, kept on it and took the win by a bike length over Stenhouse Jr., Biffle and Dillon.
Unfortunately, that meant he was going too fast to make the left turn on the other side of the finish line and had to aim for the padded section of the wall to stop.
Boyer wasn't hurt, and was able to take part in the NASCAR race on Sunday, but didn't fare quite so well. He finished in 35th place at Atlanta Motor Speedway, far behind his fellow MX riders, including Stenhouse Jr., who came in 10th.
----------