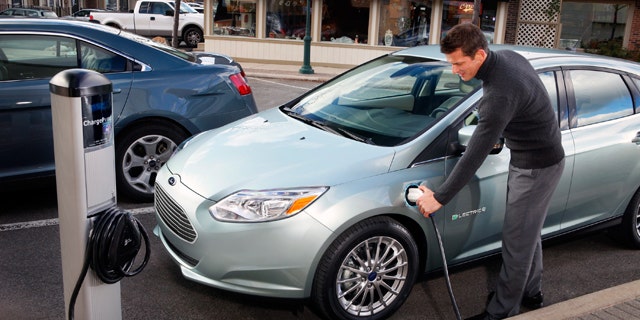 Ford is joining the 100 MPG club, or at least plans to soon.
The automaker announced today that it expects the upcoming 2012 Focus Electric hatchback to carry an EPA rating of 100 MPGe when it goes on sale next year. The 'e' stands for 'equivalent' and is used to measure the energy efficiency of battery-powered cars in relation to vehicles that run on gasoline.
The number isn't official, as of yet, but Ford is standing by it. If it holds, it would make the Focus Electric the most fuel-efficient five-passenger car in America. The Nissan Leaf is rated at 99 MPGe while the smaller, four-passenger Mitsubishi i delivers 112 MPGe.
What has not yet been announced is the range of the Focus Electric between charges. Ford has previously said that it would be 'competitive' with other cars in the class. The EPA pegs the Leaf's range at 73 miles.
But along with the projected tops in class efficiency, the Focus Electric's ace in the hole is an onboard charging system that's twice as fast as the one in the Leaf, and can fill up the battery pack in less than 4 hours when plugged into a 220-volt fast charger.
Ford is now taking orders for the Focus Electric in California, New York in New Jersey at base price of $39,995, and will make it more widely available after it enters production at a yet to be determined date next year. It qualifies for a $7,500 federal tax credit along with various state incentives.