F-35 Ford Mustang ready to fly...on the ground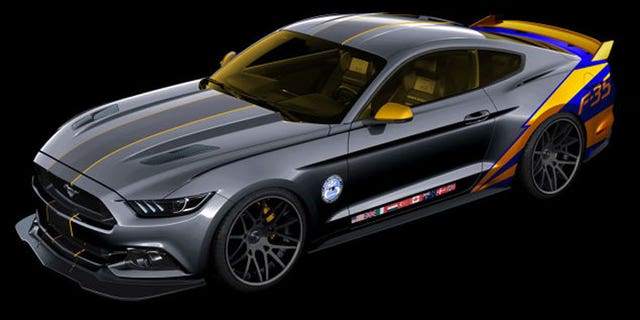 The F-35 may have just gotten approval to fly, but this one's designed to stay on the ground.
A Lockheed Martin F-35 Lightning II fighter jet-themed 2015 Ford Mustang GT will be auctioned off on July 31st at the annual Gathering of Eagles charity event held in conjunction with the Experimental Aircraft Association AirVenture show in Oshkosh, Wisconsin.
The proceeds of the sale will benefit the EAA's Young Eagles educational foundation.
Ford has ponied up a special Mustang for the auction each of the past few years, including ones designed as tributes to the Tuskeegee Airmen and the USAF's Thunderbirds precision flying team.
This year's car gets a deep carbon fiber chin spoiler and large rear wing to go with grey paint and a tail livery that apes that of the F-35C aircraft carrier version of the multirole aircraft. The flags of the nine nations involved in the program appear along the bottom of the doors. Special seats and amber-tinted window glass like that used on a fighter pilot's helmet round out the unique package.
Although it's logo is a horse, depending on the storyteller, the Mustang name may have first been inspired by the World War II-era P-51 fighter plane.
No reserve price has been set for the car, but previous editions have sold for as much as $400,000.