Dale Earnhardt Jr. passes Danica Patrick...on Twitter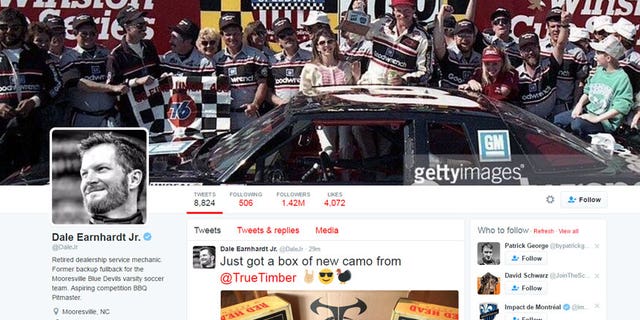 Dale Jr. finally caught Danica!
Not on the track -- the NASCAR scion is off to a fast start this season and currently sits in 6th place in the driver's standings, while Patrick is struggling 25th -- but on Twitter.
Earnhardt joined the social media platform in 2008, but didn't send out his first tweet until he won the 2014 Daytona 500. Within a day he had nearly 500,000 followers, and has been a very active tweeter ever since.
Back then, Danica had just become the first NASCAR driver with 1 million followers, but she may have peaked early while Dale just kept coming, making the pass sometime this week.
As of this writing, Dale leads Danica 1,419,740 followers to 1,418,408. He got a boost earlier this month when his passion for mayonnaise and banana sandwiches stirred up a Twitter storm.
Unfortunately, he's still got some work ahead of him if he wants to take the title. Somewhere along the way his teammate, Jimmie Johnson, pulled out to a commanding lead with 1,970,020 followers, putting the six-time champ on the brink of becoming the first NASCAR driver to crack the 2 million follower mark.
That guy, he always wins, huh?