Aston Martin and Red Bull Racing to build F1-beating hypercar for the road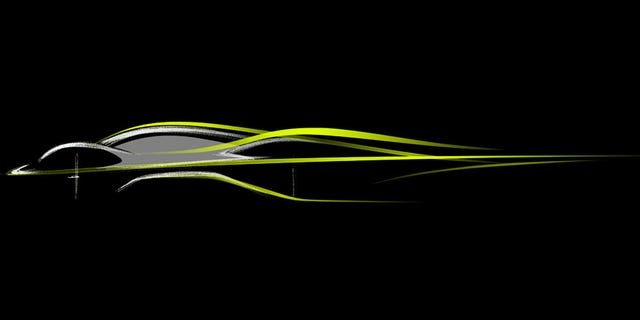 The British sports car maker announced today that a new hypercar, codenamed AM-RB 001, will be designed and built in partnership with the Red Bull Racing Formula One team. Together, they plan to build a road-legal car that has the capability of lapping a racing circuit faster than a F1 car.
If such an ambitious objective doesn't leave petrolheads with steam coming out of their ears, the price of the hypercar will. The company's CEO, Andy Palmer, must be gambling that the fragile global economy won't derail his ambitious plans to build the exclusive machine, which is anticipated to cost more than £2m ($2.8m).
"We are going to create a car that will excite and stir the imaginations of car designers of the future and a global audience of sports car enthusiasts," declared Palmer. So far, just one teasing sketch has been issued, hinting at a car with a closed cockpit, similar to a Le Mans-style LMP1 racing machine.
Although no technical details of the car have been announced, speculation suggests the company's new generation V12 engine and an electric motor could be used to create a hybrid powertrain that will give the car a level of performance that would make the Ferrari La Ferrari and McLaren P1 seem like they'd left their handbrakes on.
Leading the project are Marek Reichman, Aston Martin's design chief, and Adrian Newey, Red Bull Racing's chief creative officer. The partnership will mean that the Aston Martin logo will return to Grand Prix racing again, following a 56 year absence. Its badge will appear on this year's Red Bull Racing F1 cars, which in fact use Tag Heuer-branded Renault engines in a winding down of the team's relationship with the French manufacturer.
Reichman says Aston and Red Bull Racing will take the latest aerodynamic know-how from Formula One racing cars and – free from the constraints of F1 regulations – adapt and make improvements. Fewer than 100 cars are likely to be built.
The AM-RB 001 project has been a lifelong ambition for Newey: "From the age of six I have had two goals in life – to be involved in the design of racing cars, and to be involved in the design of a supercar."
The company's most recent hypercar, called the Vulcan, was limited to 24 models and featured a 7-litre V12 engine with around 830bhp. Unlike the proposed AM-RB 001, the Vulcan was not a road-legal car, despite costing £1.8m ($2.6).
Aston Martin first entered a Grand Prix race in 1922, but its most notable performance on the track came at the Le Mans 24 hour race, which it won in 1959.
More automotive news from The Sunday Times