2018 Jeep Wrangler turbo spotted being tested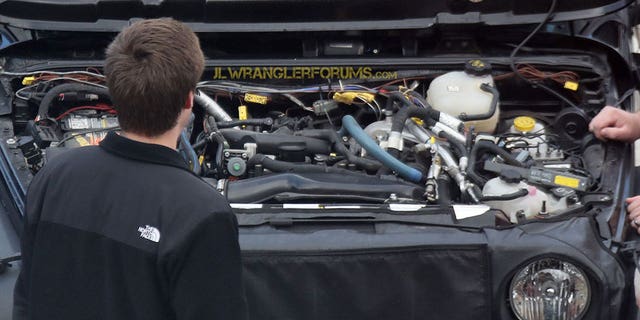 Reports that the 2018 Jeep Wrangler will be offered with a 2.0-liter four-cylinder turbocharged engine have been given a boost.
JLWranglerForums.com has posted photos of a prototype Wrangler with its hood open that appear to show a motor equipped with a turbo and its associated intake system.
An inside source recently told Automotive News that the new engine is nicknamed "Hurricane" and will put out around 300 hp. It's widely expected to be sold alongside V6, diesel and possibly hybrid versions of the Wrangler, while an eight-speed automatic transmission is also in the cards.
What do you think? Click here for more images of the Wrangler engine
JLWranglerForums.com tells Fox News that the Wrangler was spotted while it was parked on the side of a public road. Many more images of camouflaged next-generation Wranglers being driven around have been popping up over the past few weeks. The all-new truck appears to hew closely to the current formula, with a body on frame and live axles front and rear, but with a slightly sleeker design for improved aerodynamics. Chrysler executives have hinted at the increased use of aluminum in its construction, but nothing has been confirmed.
There's also no word on when it will be officially revealed, but it will most likely debut at the 2017 Detroit Auto Show in January, with sales following later in the year.