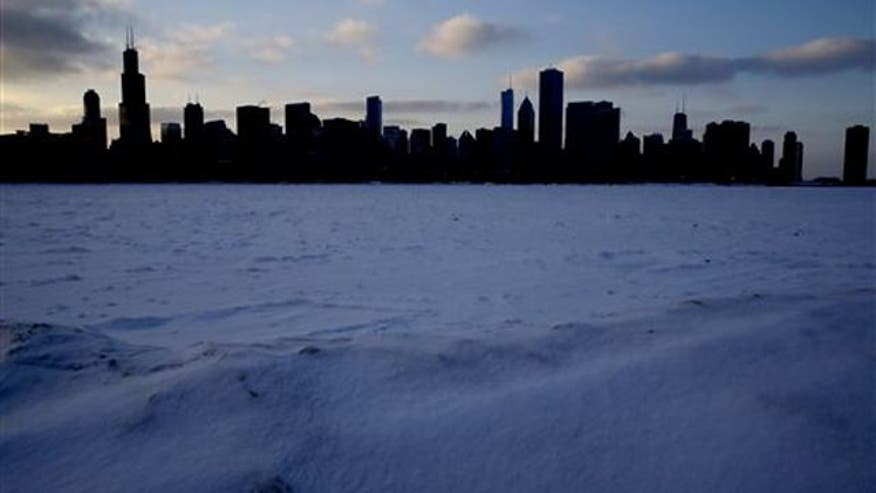 MINNEAPOLIS – Residents across the Upper Midwest may soon get the snowfall some have been wanting more of this winter.
Heavy snow is expected Tuesday in parts of Minnesota, Iowa, Michigan, North Dakota, South Dakota and Wisconsin.
A band from west-central to northeastern Minnesota could see the heaviest amounts, 4-6 inches. Blizzard conditions are expected in south-central and west-central Minnesota as well as across south-central to northeastern South Dakota.
Meteorologist Jim Taggart with the National Weather Service in Chanhassen, Minnesota, said the state has seen about half its usual snowfall this season.
"If somebody likes winter weather and they want to go out, they'll be happy," Taggart said Monday of the approaching storm.
DANGEROUS DAKOTAS STORM
The weather service posted winter storm watches, warnings and advisories for much of North and South Dakota, with mid-central and northeastern South Dakota under a blizzard warning. Arctic air was forecast to drop temperatures below zero overnight, and some areas could see wind chills in the minus 30s.
Forecasters say 5 or more inches of snow should be expected in the hardest-hit areas with winds gusting to 50 mph and blowing snow reducing visibility. South Dakota's Transportation Secretary Darin Bergquist warned it would be "a dangerous spring storm."
MESSY MIX IN MILWAUKEE
Salt trucks hit the roads in southeast Wisconsin early Tuesday as snow began to fall just in time for the ride to work or school.
About 2 inches of snow was expected during the morning hours across Wisconsin. Meteorologist Brian Gotter at WTMJ-TV in Milwaukee says the snow will likely turn to sleet later Tuesday as temperatures warm. Freezing rain was expected later in the day.
It has been unusually dry in southern and eastern Wisconsin this winter. Although snowfall from December through February was below to slightly below average, the weather service said the liquid equivalent of melted snow was "way below average," with the snow that fell mainly dry, light and fluffy.
ST. PATRICK'S PLEA IN BOSTON
Organizers of Boston's annual St. Patrick's Day Parade say the event will go on as planned March 15, despite the 8 1/2 feet of snow that has fallen on the city this winter, but they are asking for help in clearing the route.
Brian Mahoney, commander of the South Boston Allied War Veterans Council, is asking unions, businesses and residents to help shovel snow. He said it would be impossible to postpone the parade.
The city is just short of surpassing its 20-year-old snowfall record. Sunday's snowfall brought the city's total to 103.9 inches. It needs 3.7 inches more to break the 1995-1996 record of 107.6. Snow forecast for Tuesday and Wednesday could tip that total over the edge, according to Frank Nocera, a NWS meteorologist in Taunton, Massachusetts.
SNOWY NORTHERN ARIZONA
Out West, a winter storm brought snow and rain Monday to Arizona, forcing schools and government offices in the northern part of the state and the Grand Canyon's visitor centers to close.
Another 4 to 10 inches of snow were forecast for areas above 6,000 feet in elevation around Flagstaff and the Mogollon Rim before the winter storm moves out Tuesday. Travel on major interstates was slow.