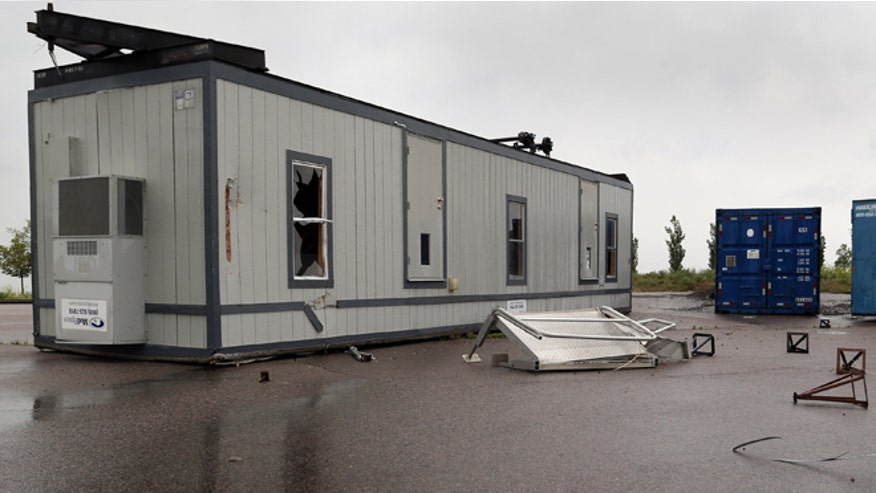 AURORA, Colo. – Several tornadoes touched down as a line of severe thunderstorms swept through Colorado, with one of the twisters hitting near a junior golf tournament and injuring a caddy and others causing property damage, officials said.
Six of the tornadoes struck in northeast Colorado, while two others hit in Park County in the center of the state, the National Weather Service said on its website. At least three of them caused damage.
The severe weather was moving toward central Nebraska and western Kansas overnight before heading into Arkansas and Missouri, Weather Service meteorologist Frank Cooper said.
Aurora Fire Department officials said a twister touched down near the Blackstone Country Club, causing one minor injury and flipping an empty trailer.
Paul Cleveland, 16, who was playing in the golf tournament, said he and two other people were riding a golf cart when they saw a funnel cloud heading in their direction, swirling debris.
"I ducked down, protected my head and waited for the worst," he said.
Moments later, Cleveland said, the twister lifted the cart and threw it on top of a caddy walking nearby. The caddy, a man in his 50s, was taken to a hospital with minor injuries, said Capt. Diane Lord with the Aurora Fire Department. Damage was also reported to a construction trailer.
Several other tornadoes were reported Sunday, including one in the tiny northeastern Colorado town of Grover and two others in northern Weld County. A twister also touched down in a sparsely populated area of southeast Wyoming, but there were no immediate reports of injuries or major damage.
The weather service said twisters also touched down in Douglas and Arapahoe counties, but there was no word of any damage.
Two twisters in Park County caused damage. A funnel cloud touched down near Fairplay about 65 miles southwest of Denver at about 11 a.m., damaging the roof of a home, Park County spokeswoman Linda Balough said.
"This is amazingly unusual at 10,000 feet, very unusual for it to happen up here," she said.
Another tornado was reported a short time later, about 40 miles away near Lake George, and caused "substantial" damage at an RV park, Balough said. No one was reported injured in either tornado.
Weather Service meteorologist Kyle Fredin said a trough of low pressure created a "large extensive line" of severe weather along the Front Range from southern Colorado to the Wyoming border.