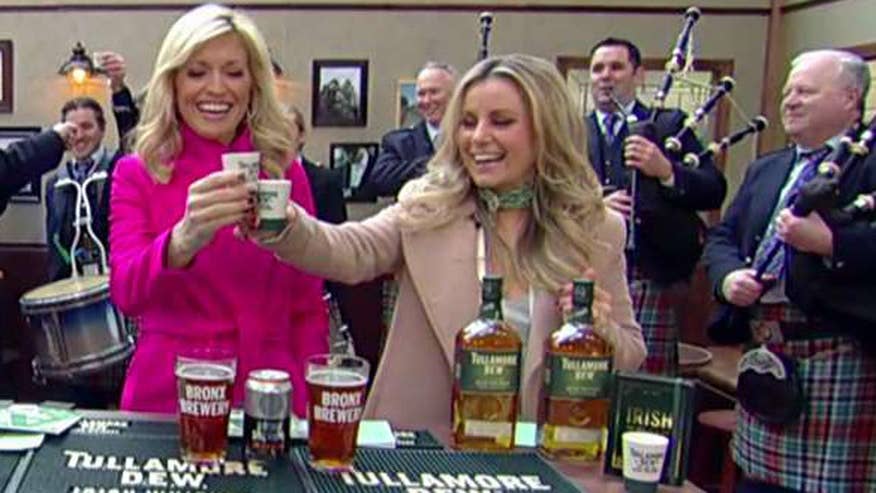 In an exemption from typically meatless Fridays during the Lenten season, some Catholics around the country will be able to eat a traditional Saint Patrick's Day meal of corned beef today -- Friday, March 17.
Some Catholic dioceses have issued a special dispensation to disregard meatless Friday for the shamrock and green festivities that typically come along with the celebration of St. Patrick, a fifth-century missionary and bishop in Ireland.
Catholic dioceses in Wisconsin, Georgia, Minnesota, Illinois, New York, and many other regions of the country have made this dispensation. More than 80 of the 195 Catholic dioceses in the United States granted a St. Patrick's Day exemption, according to a report in Catholic News Agency.
Christians typically reserve the 40 days leading up to Easter -- the season of Lent -- as a time of prayer, fasting, and reflection about the life and sacrifices of Jesus Christ.
6 SURPRISING FACTS ABOUT IRISH WHISKEY
"Lent is an important season of prayer, penance and charity," Bishop Daniel Conlon announced in Illinois. "If some fellow Catholics within the Diocese of Joliet feel that eating meat on St. Patrick's Day -- which this year falls on a Friday -- is important enough to break the rule of abstinence, they are permitted to make a conscientious decision to do so," he said.
The Rockford Diocese in Illinois also issued a dispensation, CBS Chicago reported.
New Orleans Archbishop Gregory Aymond said his parishioners can eat meat as well, but noted "they may be dispensed and choose another day of the week for abstinence or may choose to perform an act of penance that is a greater sacrifice."
In Minnesota, five of the state's six bishops announced this exemption, The Minneapolis StarTribune reported.
"It's like a get-out-of-jail free card, but you have to pay sometime," said Archbishop Bernard Hebda of the Twin Cities area. Parishioners who choose to eat meat on St. Patrick's Day will have to pay penance or do charity as a swap.
"For centuries, Catholics were forbidden to eat meat every Friday of the year, an act of penance on the day of the week that marked Jesus' death," the StarTribune noted.
This changed in 1966, when the mandate was altered to be implemented only during Lent.
"Generally speaking, dispensations, like other kinds of administrative acts, are territorial in the Church. They determine the obligations of those in a territory," J.D. Flynn, a canon lawyer and special assistant to Bishop James Conley in Lincoln, Nebraska, told the Catholic News Agency. "In this case, a traveler who is in a place where a law has been dispensed is not bound to observe the law."
Other places with dispensations include the archdioceses of Boston, Atlanta, San Francisco, and Washington, D.C. In some areas -- for example, in Salt Lake City -- individual Catholics must ask a priest for dispensation to eat meat.
Not everyone is on board with the exemption.
"I think it's catering to America's [need for] instant gratification," Elizabeth Rosenwinkel told the StarTribune while dining at a Catholic fish fry last Friday in the Twin Cities.
Others think the exemption is great. Bryan Marshall, who was at the same fish fry, told the local newspaper, "You get tired of eating fish six weeks in a row."