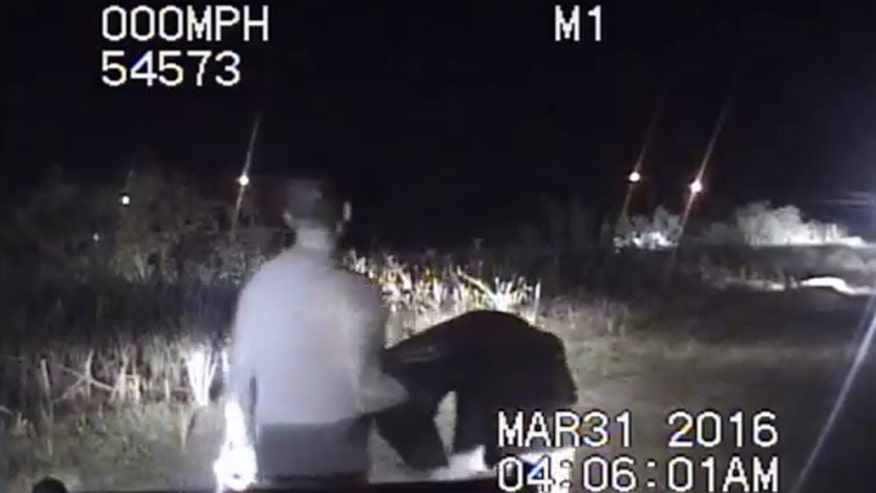 Dashcam video and audio released earlier this month show deputies debating whether to rescue three teenage girls from a stolen car as it was sinking in a Florida pond.

All three of the girls drowned. At one point, a deputy shouts, "I hear them yelling, I think," but they concluded it would be too unsafe to try pulling the girls out of the car, which had plunged 15 feet into the water.
It started when a deputy reported spotting the stolen 1998 Honda Accord without headlights on March 31 near St. Petersburg. After trying to escape law enforcement, the driver apparently missed a sharp turn near a cemetery, plunging into the water, Pinellas County Sheriff Bob Gualtieri said.
Investigators said over the radio they initially thought the girls had escaped from the car and ran off as it sank, Bay News 9 reports. According to the sheriff's office, the deputies took off their gun belts and entered the water once they realized the girls were still in the car.
However, the officers claimed their feet sank in the bottom of the pond, leading them to believe a rescue would be too risky.
Eventually a deputy says, "Now, they're done. They're done."
The sheriff said the car was like a "death chamber," with its windows rolled up and doors closed.
Investigators identified the girls as Dominique Battle, 16, and Ashaunti Butler and Laniya Miller, both 15. The girls had been arrested a combined seven times for crimes including grand theft auto, the Tampa Tribune reports.
Lawyers representing the teens' families called the sheriff's office account a "smear campaign" full of holes. "There's inconsistencies that need to be addressed, and we're asking for those answers to come," attorney Michele Whitfield said.
The Associated Press contributed to this report.