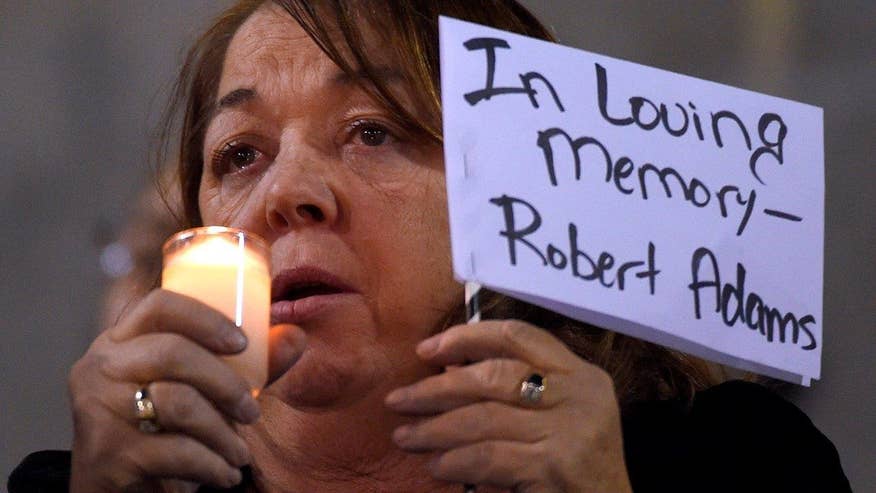 They were a young father of six and the cousin of an NFL player, a passionate defender of Israel who enjoyed debates and a community worker who dressed up as Santa Claus, some 14 victims in all, representing a tapestry of the multicultural American family, all gathered for what seemed the safest of occasions: a holiday party.
The San Bernardino, Calif. Sheriff's Department late Thursday released the names of those who died Wednesday night when a heavily armed man and woman burst into the room where they were enjoying a county health department banquet and opened fire. The male gunman, Syed Farook, presumably knew at least some of those he mowed down since he worked for the same department. The New York Post even reported that colleagues there had thrown him a baby shower earlier this year.
The victims ranged in age from 26-60 and included eight men and six women.
Here are the stories of some of those who died:
Mike Wetzel, 37, of Lake Arrowhead, a rangy environmental health specialist with San Bernadino County who, according to the Los Angeles Times, loved children and coached both boys' and girls' soccer. He left behind six children, who appeared to range from teens to an infant.
Nicholas Thalasinos, 52, of Colton, also a health inspector, who was identified as a Messianic Jew by friends who added he enjoyed debating religion. Only two weeks ago, they said, he had a heated discussion with Farook about the nature of Islam. He and his wife, Jennifer, had just renewed their marriage vows.
Damian Meins, 58, of Riverside, who was devoted to serving others and was known for dressing up as Santa for school pictures. He worked in the public health department in San Bernardino and received a Community Recognition Award for his work in Riverside.
Tin Nguyen, 31, of Santa Ana, a native of Vietnam and a food inspector. Her family said she was supposed to marry in 2017.
In addition, NY Giants safety Nat Behre tweeted, "Just got word that one of my cousins was among the 14 killed yesterday. I'm so sick right now. The true terror is that this keeps happening." It was not immediately clear which of the dead was his cousin.
"This shooting has caused each victims family, friends and co-workers, along with the first responders, to suffer an enormous personal tragedy, " Sheriff John McMahon said in releasing the names of those killed. "We must stand strong and offer support to each individual affected by this senseless attack."
The list of fatalities as provided by the Sheriff's Department:
Shannon Johnson, 45, Los Angeles
Bennetta Bet-Badal, 46, Rialto
Aurora Godoy, 26, San Jacinto
Isaac Amanios, 60, Fontana
Larry Kaufman, 42, Rialto
Harry Bowman, 46, Upland
Yvette Velasco, 27, Fontana
Sierra Clayborn, 27, Moreno Valley
Robert Adams, 40, Yucaipa
Nicholas Thalasinos, 52, Colton
Tin Nguyen, 31, Santa Ana
Juan Espinoza, 50, Highland
Damian Meins, 58, Riverside
Michael Wetzel, 37, Lake Arrowhead
The Associated Press contributed to this report.