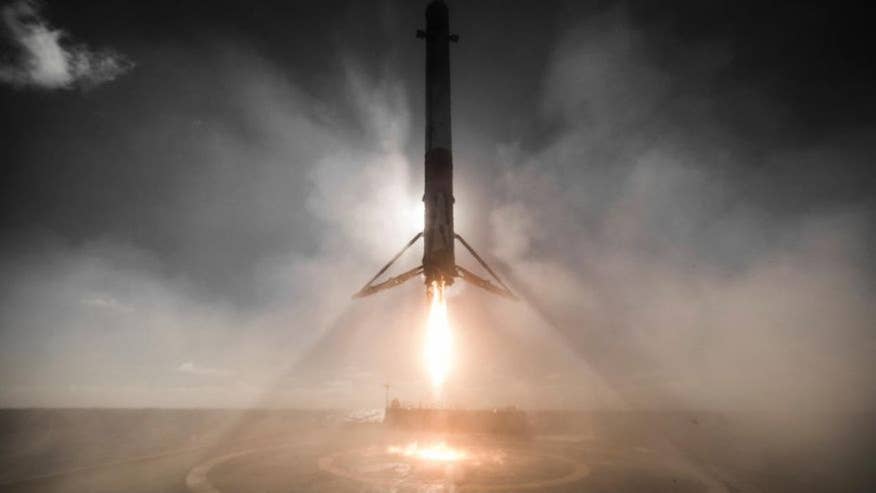 After a disastrous launchpad explosion last September, SpaceX is back with a bang (the good kind) now that it successfully launched a rocket on Saturday and returned a section of it back to a safe landing. What's more, the company has published a dramatic photograph showing the landing that's garnering plenty of attention.
After lifting off from Vandenberg Air Force Base in California, the Falcon 9 rocket's two sections separated, and then the upper section succeeded in delivering its payload of 10 Iridium communications satellites into orbit. That's a good thing, because the last time SpaceX tried to launch a rocket, it exploded while being fueled, destroying a pricy satellite in the process.
SPACEX COMPLETES FIRST SUCCESSFUL LAUNCH SINCE EXPLOSION
As a bonus, the first section of the satellite descended back to Earth as planned, sticking a landing on a droneship called "Just Read the Instructions" that was off the coast of California.
SpaceX has shared a bunch of photos from the Iridium-1 mission, and one of them shows the rocket just before touchdown, its landing legs deployed, the sun behind it, and a tongue of fire coming out of its base.
Updated launch and landing photos → https://t.co/vn4S8bV3x3 pic.twitter.com/GRpm77LxKw

— SpaceX (@SpaceX) January 18, 2017
Shared on Twitter, the photo has been liked or retweeted thousands of times.
"What an amazing picture!" one commenter wrote on the company's Flickr feed.
This isn't the first time SpaceX succeeded in landing a rocket section, but it is the first time the company has flown a mission since the September explosion.
Liftoff pic.twitter.com/pcVJOvFHY2

— Elon Musk (@elonmusk) January 15, 2017
Elon Musk's rocket company, along with Boeing, was chosen by NASA in 2014 to eventually take astronauts up to the International Space Station.