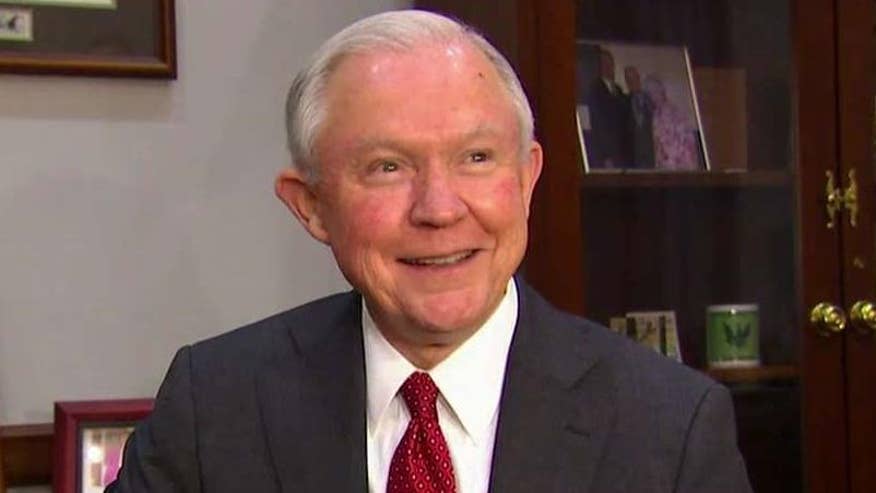 President-elect Donald Trump's nominees to lead the departments of Justice and Homeland Security will appear before Senate commitees Tuesday to kick off what is likely to be a contentious confirmation process.
Late Monday, Sen. Cory Booker, D-N.J., announced that he would testify before the Senate Judiciary Committee against the nomination of Alabama Sen. Jeff Sessions to be attorney general. Booker will be joined by Rep. John Lewis, D-Ga., and Rep. Cedric Richmond, D-La. — the head of the Congressional Black Caucus — as part of an effort by Democrats to portray Sessions as out of the mainstream on civil rights legislation.
Booker is believed to be the first sitting Senator to testify in a confirmation hearing against another sitting senator nominated for a Cabinet position.
"I do not take lightly the decision to testify against a Senate colleague," Booker said in a statement. "But the immense powers of the Attorney General combined with the deeply troubling views of this nominee is a call to conscience.
"The Attorney General is responsible for ensuring the fair administration of justice, and based on his record, I lack confidence that Senator Sessions can honor this duty," the senator added.
Democrats don't have the power to block the nomination of either Sessions or retired Marine Gen. John Kelly to head DHS, since Republicans control the Senate and only need a simple majority to confirm both men.
However, Democrats on the Senate Judiciary Committee are expected to try and paint Sessions as being out of the mainstream on issues critical to the party's core voters — Hispanics, African Americans and women — ahead of the 2018 election cycle.
Sessions has been a leading advocate not only for cracking down on illegal immigration, but also for slowing all legal immigration, increasing mass deportations and giving more scrutiny to those entering the United States. He vehemently opposed the bipartisan immigration bill that the Senate passed in 2013 that included a pathway to citizenship for the estimated 11 million immigrants living in the U.S. illegally.
Senate Democratic leader Chuck Schumer, who worked with Republicans to craft the immigration legislation, indicated last week that he would have a hard time supporting Sessions, saying "he has been more anti-immigration than just about any other single member of Congress."
In 1986, Sessions was nominated to the federal bench by then-President Ronald Reagan, but was rejected by the Senate Judiciary Committee over allegations that he had called a black attorney "boy" — which he denied — and described the NAACP and ACLU as "un-American."
Last week, the NAACP staged a sit-in at one of Sessions' Alabama offices, and its legal defense fund said it was "inconceivable that he should be entrusted with the oversight of our civil rights laws."
Hank Sanders, a Democratic state senator in Alabama, points to cases Sessions pursued as a prosecutor against civil rights activists in the 1980s. "They called them voter fraud cases," said Sanders, who won acquittals for the defendants. "I called them voter persecution cases."
However, Albert Turner Jr., the son of two of those defendants recently said he believed Sessions "is not a racist" and "was simply doing his job" when he prosecuted the cases.
Supporters describe Sessions as a man of integrity who fought for desegregation during his career as a local GOP leader, prosecutor and elected official.
As U.S. attorney, Sessions' office investigated and helped secure convictions in the 1981 Ku Klux Klan lynching of Michael Donald, a black teenager found hanging from a tree.
Greg Griffin, a black Alabama judge who worked as a state attorney when Sessions was Alabama attorney general, told the Associated Press over the weekend that Sessions "always treated me with respect" and called him "one of the best bosses I ever had."
While in the Senate, Sessions voted to confirm Obama's first attorney general, Eric Holder, the first black man to lead the Justice Department. He also worked with Democratic colleagues on efforts to combat prison rape and to reduce federal sentencing disparities between crack cocaine and powder cocaine offenses, saying the gap unfairly targeted the "African-American community simply because that is where crack is most often used."
Kelly, who is expected to be easily confirmed by the Senate Homeland Security and Governmental Affairs Committee and the full Senate, would be the first non-civilian to head DHS since the department was created in 2002. He is expected to be questioned closely about his views on border security.
Trump famously vowed to build a wall along the U.S. border with Mexico when he announced his run for president, and stuck to that vow throughout the campaign.
The Associated Press contributed to this report.