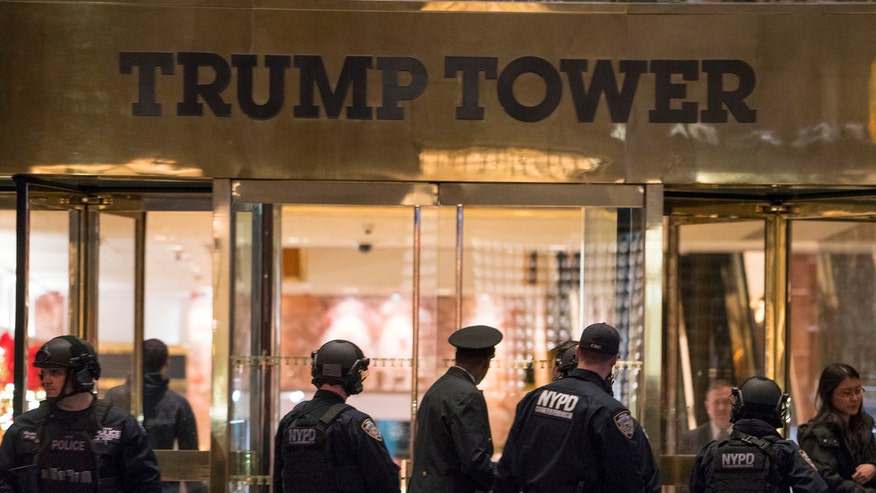 The Donald Trump transition team hit back late Tuesday at a New York City official for saying they would send "the bill" to cover the cost of responding to a bomb scare inside Trump Tower, calling the aide an "embarrassment" to the mayor's office.
The exchange started when the city police bomb squad responded to a report of a suspicious package, which turned out to be a bag of unattended children's toys.
"Back to work here at Trump Tower after a false alarm," Trump spokesman and incoming press secretary Sean Spicer tweeted when the situation Tuesday was resolved. "Thanks NYPD."
But then Eric Phillips, a spokesman for Democratic Mayor Bill de Blasio, tweeted: "No problem. We'll send you the bill."
No problem. We'll send you the bill. https://t.co/mxbUqzgHds

— Eric Phillips (@EricFPhillips) December 27, 2016
The exchange ended with Trump's director of social media, Dan Scavino, tweeting: "You are an embarrassment to the NYC Mayors Office and the amazing NYPD."
Eric Phillips- Spokesperson for @NYCMayor @BilldeBlasio- you are an embarrassment to the @NYCMayorsOffice & the amazing #NYPD. https://t.co/kPX9go1gl4

— Dan Scavino Jr. (@DanScavino) December 28, 2016
The Twitter clash can be traced to an ongoing gripe the mayor's office has about providing security for Republican President-elect Trump and his team.
De Blasio has complained about the city having to provide security essentially from Election Day to Inauguration Day at Trump Tower -- the midtown Manhattan skyscraper that is the president-elect's residence and transition team headquarters. The mayor has in fact sent a bill for $35 million to the Obama administration.