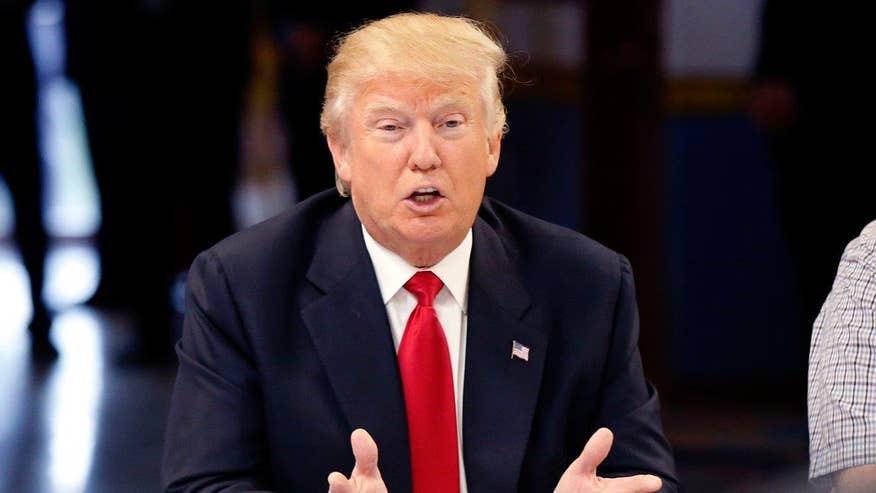 **Want FOX News Halftime Report in your inbox every day? Sign up here.**
On the roster: Storm Warning: Q Poll shows Trump down 10 - Hillary hammers Trump on white nationalism - Power Play: Trump tries a do-over on deportation - Audible: A fool's errand? - Maybe she was just a big Mario Bros. fan

STORM WARNING: Q POLL SHOWS TRUMP DOWN 10
If you want to know why Donald Trump has been throwing haymakers lately – calling Hillary Clinton "a bigot" and opening a path for illegal immigrants to remain in the country – you have your answer.

The first worthwhile national poll in more than a week is out and the trajectory of the race after the conventions seems to have intensified.

In the Quinnipiac University poll out this afternoon, Trump now trails Clinton by 10 points in a head-to-head matchup and by 7 points in a four-way race with the Libertarian and Green Party nominees included.

For the first time in the poll, Clinton is over 50 percent in a head-to-head matchup and Trump is essentially unchanged from the school's June poll at 41 percent.

Yikes…

Now, you can feel free to not make too much of any individual poll. But before any Trump enthusiasts pitch this one, remember a few things: It is from one of the best pollsters, one that was right on the money in forecasting Trump's primary wins; it is in line with other top-notch pollsters' findings from earlier this month; and it includes a likely voter screen.

It's getting serious.

What we like so much about the Q poll is all of the nitty-gritty data the pollsters provide.
So depending on whom you're rooting for this fall, here's either the good or bad news:
- By a margin of 59 percent to 36 percent, respondents said "the way Donald Trump talks appeals to bigotry."

- Clinton is winning with women by 24 points while Trump is winning among men by 6 points.

- Trump gets only 52 percent of white voters, 7 points worse than Mitt Romney's final tally in 2016. Trump also lags Romney and other prior Republican nominees among non-white voters, gaining just 15 percent support.

- In another election, Clinton would be in bad shape with just 44 percent of voters saying they like her at all, but Trump actually fares 9 points worse on likability.

- Seventy-four percent of respondents say that Trump should release his tax returns.

- And in a good metric for the relative levels of voter loyalty, "64 percent of Trump supporters say they are voting mainly anti-Clinton, while 25 percent say they are voting pro-Trump. Among Clinton supporters, 47 percent are mainly anti-Trump while 32 percent are pro-Clinton."
This all adds up to a moment for Trump and the Republicans to radically reconsider what they're doing. No modern candidate trailing by so much with less than 11 weeks to go has ever won the presidency.

Trump is obviously aware of his situation, as he is shaking things up in his campaign, shifting his style and revamping core policies. But perhaps the most ominous number for his candidacy: 90 percent of respondents say their minds are firmly made up.

TIME OUT: OUT OF THIS WORLD PROFITS
There is a lot of buzz about the discovery of a potential cousin to Earth in a nearby solar system – and by nearby, astronomers mean 26 trillion miles. But the biggest news may be much closer to home. NASA's Sept. 8 mission to an asteroid called Bennu is not just exciting space enthusiasts, but also potentially opening up a new industry. New Republic: "Asteroid mining hasn't even begun, and it's already being privatized: Several for-profit companies are currently jockeying for position in the fledgling industry…The initial goal for both companies is to mine asteroids for water, an essential commodity for long-duration space travel. If humans ever travel into deep space—to Mars, for example—we will need water for life support and fuel. But it's prohibitively expensive to take all of the necessary water supplies with us from Earth. A company that can develop the technology to find and extract water from an asteroid could set up the H2O equivalent of a gas station in outer space—a potential gold mine."
Flag on the play? - Email us at HALFTIMEREPORT@FOXNEWS.COM with your tips, comments or questions

SCOREBOARD
Average of national head-to-head presidential polls: Clinton vs. Trump: Clinton +9.6 points
Average of national four-way presidential polls: Clinton vs. Trump vs. Johnson vs. Stein: Clinton +7.2 points
Generic congressional vote: Democrats +4.2

HILLARY HAMMERS TRUMP ON WHITE NATIONALISM
NYT: "Hillary Clinton plans to deliver a major address on Thursday denouncing Donald J. Trump's embrace of the 'alt-right' political philosophy, presenting his choice as an especially ominous turn in a presidential election full of them. The speech, at a community college in Reno, Nev., will come one week after Mr. Trump named Stephen K. Bannon, the executive chairman of Breitbart News, as his campaign chief. Mr. Bannon has eagerly described the site as 'the platform for the alt-right' — a loosely defined and contested term often associated with white nationalist and anti-immigrant sentiment. Accordingly, one of Mrs. Clinton's challenges will be explaining the 'alt-right' to a national audience that may have little familiarity with it. Her campaign has accused the ideology's proponents of 'embracing extremism and presenting a divisive and dystopian view of America.'"

And on that note… - Clinton's team released a new ad today with Ku Klux Klan members and professed white nationalists enthusiastically endorsing Trump for president, saying he upholds their message.
POWER PLAY: TRUMP TRIES A DO-OVER ON DEPORTATION
Donald Trump met with young minority activists in New York today, but which Trump showed up: the candidate who boasts about creating a "deportation force" or the "softer" Trump emerging this week? At a rally in Tampa on Wednesday, Trump honed in on job creation and education opportunities for Hispanic workers signaling a change from his past offenses on the Hispanic community. But Trump doesn't seem to be backing down on his immigration plan describing a 35 to 45 foot height for his much-vaunted border wall in a pre-taped interview with Sean Hannity. How will all this play out with the key voter group? The RNC's Hispanic Communications Chairwoman, Helen Aguirre Ferre, gives her take to Chris Stirewalt. WATCH HERE.

PLAY-BY-PLAY
Clinton says 'there is a lot of smoke and there is no fire' surrounding her family foundation, State Dept. ties - The Hill

Aaaaaaaand… Chelsea Clinton will stay on at the foundation - The Hill

Clinton raises $18 million in three days - AP

Donors pay $200,000 each for Clinton's California fundraiser - WaPo

Clinton says she's 'not going to re-litigate' Powell email claims - WashEx

What does Trump lose by not running a professional campaign? A lot. - WaPo
Eliana Johnson explains how Trump's name almost didn't make the ballot in Minnesota - NRO

Trump's history of hiring illegal immigrants to build Trump Tower - Time

Trump says border wall will be 35-45 feet high - WashEx

AUDIBLE: A FOOL'S ERRAND?
"It would be foolish to do. I'm actually the biggest proponent of not doing it." – Eric Trump defending his father not releasing his tax returns.
FROM THE BLEACHERS
"Many similarities between Trump 2016 and Andrew Jackson's campaign for President in 1828. Jackson, very much an outsider (though a one term congressman and territorial governor), campaigned against the "corrupt" Adams dynasty who had allied themselves with entrenched elite interests in finance, politics, and media. Jackson was a popular national brand, as you noted, due to his military leadership in arguably saving our young nation at the Battle of New Orleans. Jackson was criticized for having no foreign policy experience, speaking no foreign languages, and never having served as an ambassador or emissary, unlike the highly educated and internationally experienced Adams clan." – John Singely, Pensacola, Fla.
[Ed. note: Jackson was a serious badass. Serious. And he certainly was, like Trump, an outsider candidate. But don't forget what would set Trump apart from every previous president: He would be the first to have never held any government post or any military rank. We've had businessmen become president, but never without any public service. It would be far more radical a departure from precedent than Jackson rough-hewn biography.]
"Did the study mention that the KKK was started and sustained by the Democrats? You could mention this as well." – Evelyn Poole-Kober, Hillsborough, N.C.
[Well, the white folks in the South during reconstruction were hardly going to be Lincoln Republicans! But, yes, the collective amnesia about the Democratic Party's ties to white nationalism through the 1950s and, in some case, beyond, is one of the most glaring potholes in the highway of political history.]
"Which are the 11 states whose Electoral College votes can/will win the total needed to win election?" – Joan H. Williams, Lebanon, Ore.
[Ed. note: Great question, Ms. Williams. Most states stay on one side or the other – Texas is safe for the GOP and California is a Democratic stronghold, and so on. But some flit back and forth. The common definition of a swing state is one that has, well, swung between the two parties within recent history. Basically, the map as we know it has been roughly in place since 1992, with the same states showing up again and again as battlegrounds. We all know about the two swingingest swing states: Ohio and Florida, with a combined 47 electoral votes. Those two have been part of every modern Republican winning coalition. Other states that might be in play this year this year include Nevada, Colorado, Arizona, Iowa, Missouri, Minnesota, Wisconsin, Michigan, Virginia, North Carolina, Georgia, New Hampshire and Pennsylvania. I can hear you saying, "But Chris, that's way more than 11 states!" And you are right. The states that will decide the election are the ones that, put together, add up to 270 electoral votes for one candidate or the other. Right now, there aren't really any swing states, per se, because Hillary Clinton is so far ahead and would likely cruise past the 270 threshold if the election were held today. But it's not going to be. If the race tightens, as expected, those are the states where we will be first watching for signs of a Trump bump and, eventually, potential paths to victory.]
"All 501(c) 3 foundations have to file an annual 990 tax form with the IRS. Why hasn't anyone looked into the Clinton's 990 annual filings and reported on them?" –Herb Knight, St. Charles, Ill.
[Ed. note: There has been lots and lots and lots of reporting on the Clinton Foundations tax filing. But for a big chunk in one spot, I'm re-upping this piece.]

"I like your sophisticated language and sense of humor. Keep going. The following concern is a serious one: Would you trust Los Angeles Times and Rasmussen poll results? …I'm a former Rubio's supporter 'inevitable' voting for Trump. Big problem for those like me, who fled from any of the actual communist countries, because there [isn't another] place to flee to if Spider Hillary become President. Any suggestion? …At least a reparable rubber ring needed badly. As you can tell, even my last name alone terrify me." – Juan Castro, Miami, Fla.
[Ed. note: I'm pretty bullish on America, whatever happens with this election. We have some huge hurdles, especially on the culture and community side of things. But, there's still no place in the world I would rather be than here. I love this country, and not for its government. I love it for its imperfect, frustrating, fascinating and damned wonderful people. We are the rarest breed of mutts that the world has ever seen. And the finest, I think. Then again, I'm biased that way. As for the polls, we don't use either of those two. Thank you for the kind words.]
Share your color commentary: Email us at HALFTIMEREPORT@FOXNEWS.COM and please make sure to include your name and hometown.

MAYBE SHE WAS JUST A BIG MARIO BROS. FAN
Barrhead News: "A nursery worker who drew a moustache on a toddler's face with a permanent marker while he was sleeping and then took a photograph of him is facing jail. Laura Houston, 25, also pulled the little boy's legs away from him, causing him to fall and smack his face on the floor, leaving him in tears. She also tripped a little girl up while walking along beside her and holding her hand. And she attacked a third toddler by slapping him across the chest to get him to be quiet, causing him to freeze with fear. She was convicted of assaulting three children in her care at the East Renfrewshire nursery between August 2014 and February 2015. Houston, who is a fully qualified early years practitioner, was warned she faces jail for assaulting the three one-year-olds."
AND NOW, A WORD FROM CHARLES…
"We say and do nothing, with impunity." – Charles Krauthammer on "Special Report with Bret Baier" talking about the Iran hostage situation and the Obama administration's changing story. Watch here.

Chris Stirewalt is digital politics editor for Fox News. Sally Persons contributed to this report. Want FOX News Halftime Report in your inbox every day? Sign up here.
Chris Stirewalt joined Fox News Channel (FNC) in July of 2010 and serves as politics editor based in Washington, D.C. Additionally, he authors the daily Fox News Halftime Report political news note and co-hosts the hit podcast, Perino & Stirewalt: I'll Tell You What. He also is the host of Power Play, a feature video series on FoxNews.com. Stirewalt makes frequent appearances on network programs, including America's Newsroom, Special Report with Bret Baier and Fox News Sunday with Chris Wallace. He also provides expert political analysis for FNC's coverage of state, congressional and presidential elections.