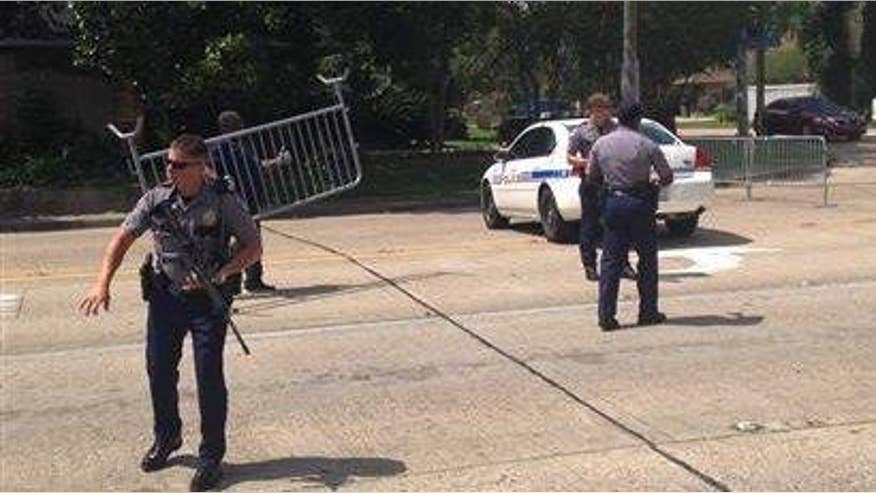 As we were getting ready for yesterday's show at the Cleveland convention—which of course was interrupted by the murder of several Baton Rouge police officers—I wrote this closing script:
ON FRIDAY MORNING I SAT DOWN TO REWRITE THE SHOW AFTER HAVING SPENT THE PREVIOUS NIGHT WATCHING THE HORRENDOUS TERROR ATTACK IN NICE.
WHICH IS THE SAME THING I DID THE PREVIOUS FRIDAY MORNING, AFTER HAVING SPENT THE NIGHT BEFORE WATCHING THE DESPICABLE AMBUSH OF POLICE OFFICERS IN DALLAS.
THIS, SADLY, IS THE NEW NORMAL FOR JOURNALISTS WHO MUST COVER THESE INCREASINGLY FREQUENT EPISODES OF MASS MURDER, AND FOR OUR POLITICAL LEADERS.
FOR DONALD TRUMP, IT DELAYED HIS ROLLOUT OF RUNNING MATE MIKE PENCE, AND CONSUMED MUCH OF THE MEDIA OXYGEN THAT WOULD HAVE BEEN DEVOTED TO THE RUNUP TO THIS CONVENTION. THE SAME THING WITH THE ATTEMPTED COUP IN TURKEY.
WE ALL HAVE TO WRESTLE WITH OUR EMOTIONS AT TIMES LIKE THIS, THOSE WHO PRODUCE THE NEWS AND THOSE WHO CONSUME THE NEWS.
And then it happened again. We got word 10 minutes before airtime for "Media Buzz."
I tried to emphasize, as we came on the air, that we knew very little, not even how many police officers had been shot, let alone any description of the shooter. I didn't want to slide into supposition and speculation.
At the same time, I was reacting on a human level. More police officers shot and, as we learned during the hour, killed? So soon after Dallas? Is there any end to this scourge?
Whatever the outrage about the fatal police shooting of Alton Sterling in Baton Rouge, that in no way justifies the hatred of officers that led to the Louisiana murders. What's truly sickening is that the police officers who defend our communities are no longer being killed in responding to crimes, but being targeted for death just for wearing blue.
When I looked at Twitter after the show, I saw some people blaming President Obama, even before we knew the race of the attacker or attackers, or that of the officers who were shot. While there are important policy debates surrounding this upsurge in violence, commentators in the media (and social media) only add to the sense of polarization when they hurl these "blood on their hands" charges.
Since the Baton Rouge killings happened on the eve of the Republican convention, what happened there and in Dallas is going to change the tone for Donald Trump, who bills himself as the "law and order" candidate. The same thing will happen in Philadelphia for Hillary Clinton, whose convention plans to feature the mother of Trayvon Martin and relatives of other blacks killed during confrontations.
There is no avoiding this issue, not for presidential candidates, not for people with television shows, not for Americans increasingly worried about whether they and the police in their community are safe.
The concern before yesterday had been that clashes between police and protestors here in Cleveland might escalate into violence. We are now sadly reminded it can happen any time, any place, even on a quiet Sunday morning.
Howard Kurtz is a Fox News analyst and the host of "MediaBuzz" (Sundays 11 a.m. and 5 p.m. ET). He is the author of five books and is based in Washington. Follow him at @HowardKurtz. Click here for more information on Howard Kurtz.